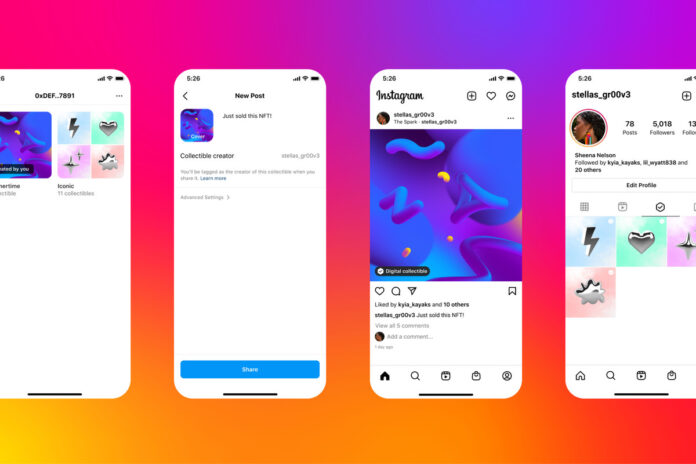 The head of Instagram, Adam Mosseri, announced that the photo and video sharing platform is about to begin testing NFTs with select creators in the United States starting this week. In a tweet, he wrote; "This week we're beginning to test digital collectibles with a handful of US creators and collectors who will be able to share NFTs on Instagram. There will be no fees associated with posting or sharing a digital collectible on IG."
NFTs on Instagram ?

This week we're beginning to test digital collectibles with a handful of US creators and collectors who will be able to share NFTs on Instagram. There will be no fees associated with posting or sharing a digital collectible on IG.

See you next week! ✌? pic.twitter.com/VuJbMVSBDr

— Adam Mosseri (@mosseri) May 9, 2022
Meta to introduce NFTs on Instagram and other platforms
Mosseri said in his video announcement; "Instagram is fundamentally a centralized platform, so there's a tension there. So one of the reasons why we're starting small is we want to make sure that we can learn from the community. We want to make sure that we work out how to embrace those tenets of distributed trust and distributed power, despite the fact that we are, yes, a centralized platform. We do think that one of the unique opportunities we have to to make web3 technology accessible to a much broader range of people. And NFTs specifically we think will be interesting not only to creators who create NFT art but also to people who want to collect it."
The Meta's CEO, Mark Zuckerberg, mentioned that a similar feature is coming to Facebook in the near future along with WhatsApp and Messenger. Recently, Twitter also introduced NFTs on its platform as hexagon-shaped profile pictures, the platform also charged a little amount to upload NFTs profile pictures. However, Instagram won't be charging any fee from the users to upload and share non-fungible tokens.
List of Content creators taking part in the test
To test NFTs on Instagram the following users will be part of the piolet test run: @adambombsquad, @bluethegreat, @bossbeautiesnft, @c.syresmith, @cynthiaerivo, @garyvee, @jenstark, @justmaiko, @maliha_z_art, @misshattan, @nopattern, @oseanworld, @paigebueckers, @phiawilson, @swopes, and @yungjake.
Read more: Instagram is Actively Exploring NFTs, Says its CEO Adam Mosseri