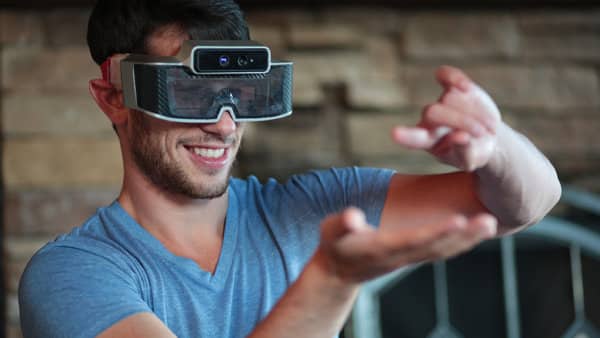 A new report from Verge states that Meta aims to launch its first AR glasses, part of its Project Nazare initiative, in 2024. As per sources, the AR Glasses will be available in four different variants that will be released over the course of next six years. Mark Zuckerberg calls AR glasses a holy grail device that will "redefine our relationship with technology."
Everything you need to know about Meta's AR Glasses
This first model of the glasses is expected to be based on Android and could offer full Augmented Reality with 3D visuals, eye tracking, an outward-facing camera, stereo audio, a wide field of view and a socially acceptable look. Moreover, a centerpiece feature will also be added that would enable communication with other people's holograms, just like the video showed by Meta at its big rebranding event last fall. Mark Zuckerberg believes the feature will provide a more engrossing experience than simple video calling.
A pair of phone-paired smart glasses, nicknamed Hypernova, that would show notifications through a small display is also expected to debut in 2024. According to the report, Meta plans to launch the glasses by 2024 and then release two more advanced designs in 2026 and 2028. It is pertinent to mention here that Meta doesn't yet have a working, wearable prototype of its planned AR glasses, but rather a stationary demonstration that sits on a table.
Read more: Facebook Rolls Out Smart Glasses Called Ray-Ban Stories
An iPhone moment
A former staffer told that Zuckerberg wants the AR glasses to represent an "iPhone moment" for Meta — that  means, a launch that will speak for itself and shakes up the entire industry. He also mentioned that Zuck's ego is intertwined with the glasses. Meanwhile, Apple is planning its own AR and VR products, starting with a mixed reality headset that could be released as soon as next year.
Source: Verge