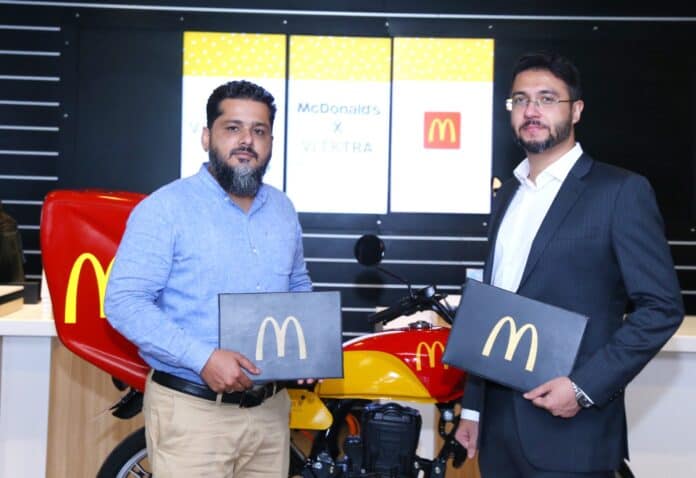 McDonald's Pakistan has partnered with electric bikes manufacturer, VLEKTRA, to deliver food orders on e-bikes in a more environmentally friendly way. Vlektra Electric Motorcycles are Pakistan's first lithium-ion-based electric motorcycles designed to reduce carbon emissions and avert climate change.
McDonald's Pakistan Unveils McDelivery E-bike
An MoU signing ceremony took place at McDonald's Corniche Seaview branch in Karachi on 28th April 2023. "We begin the amazing journey to have your favorite meals delivered without any air or sound pollution. McDonald's becomes one of the first few McDonald's in the world to bring emission-free food delivery to your doorstep," reads the official statement on VLEKTRA's social media handle.
During the MoU signing ceremony, McDonald's unveiled the new McDelivery electric bike. "With the support of VLEKTRA, we are embarking upon a greener future. Very soon you will be seeing electric bikes delivering your favorite food at your doorstep thereby ensuring that as we deliver happiness, we also take care of our environment," reads the official statement from McDonald's.
An Eco-friendly Move
Pakistan is the seventh most vulnerable country in the world due to climate change. It also has the second highest deaths from lung cancer. The move by McDonald's Pakistan is expected to inspire other fast-food chains and businesses in the country to follow suit and adopt more sustainable practices. It is a step towards a cleaner and greener future for Pakistan.
Also read: United Launches Three Electric Bikes in Pakistan