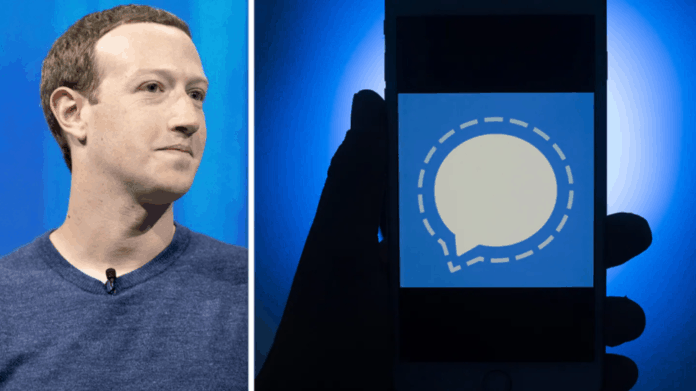 It has been reported that Facebook CEO Mark Zuckerberg was among the 533 million Facebook users from 106 countries whose private data was exposed by the hackers on 3rd April. Zuckerberg's phone number, location, name, date of birth, marriage information, and Facebook user ID were amongst the stolen personal information published on a low-level hacker forum. 
In the revealed information, it was discovered that Zuckerberg uses the Signal app. A security researcher revealed it by posting his leaked phone number which established that the Facebook CEO uses the Signal app.
"In another turn of events, Mark Zuckerberg also respects his own privacy, by using a chat app that has end-to-end encryption and isn't owned by @facebook. This is the number associated with his account from the recent Facebook leak," security expert Dave Walker posted on Twitter along with a screenshot of Zuckerberg's leaked phone number which mentioned, "Mark Zuckerberg is on Signal." 
Read more: Tech giants Facebook, Google, and Microsoft shares soar to all-time highs
Of the 533 million affected Facebook users, 32 million belonged to the US, 11 million to the UK, and six million to India. According to a recent report, the database of hacked phone numbers was posted on a hackers' forum and could be easily transferred to anyone with primary computing skills. 
In addition to it, after Walker's discovery regarding the matter, Signal had a little fun, tweeting a link to a story about Zuckerberg's Signal account, writing, "With the May 15th WhatsApp Terms of Service acceptance deadline fast approaching, Mark leads by example."
Read more: Here is how you can check if your details were exposed in Facebook's recent data breach
The famous messaging app, WhatsApp's updated privacy policy, was originally intended to be implemented on 8th February, however, was put on hold after receiving severe public backlash. As stated by WhatsApp, the changes are related to optional business features on the app and provide further clarity about how the company collects and utilizes the data. Moreover, the update will not affect the privacy and security of private messages and calls, which will still be guarded by end-to-end encryption, according to a recent post published by the company. 
Image Source: Fox Business