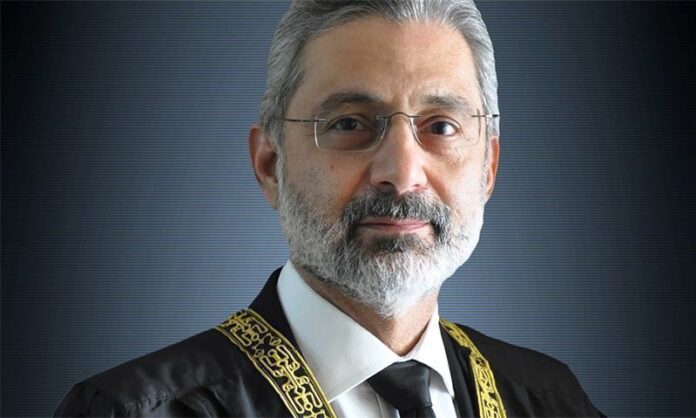 An unfortunate incident has occurred as the Supreme Court Justice Qazi Faez Isa's mobile phone was hacked; the apex court's public relations office stated on Tuesday. This deed has ultimately compromised the security of the Citizens of IRP.
To handle this problem the Supreme Court issued a press release stating, "The cell phone of Justice Qazi Faez Isa has been hacked and there is suspicion that misguiding communication can be made from his lordship's number to anyone with ulterior motives".
"Therefore, the communication purportedly made from [Justice Isa's] cell phone, which his lordship had not sent, may be treated as fake and false," the report further added.
Read more: Govt actively monitored internet during the Pandemic: PTA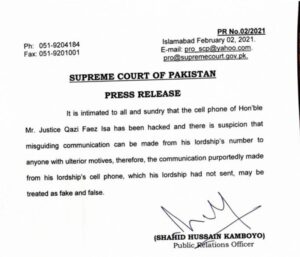 This crime was further reflected on by the Former President of the Supreme Court Bar Association, Amanullah Kanrani. As he had tweeted informing everyone about the situation and urged people to perform precaution.
The wife of Justice Isa had accused the government of tapping their personal phones and observed surveillance on them. As she had forwarded a case of alleged harassment by the government to the Apex Court.
A similar cyber-crime had also occurred back in August 2020, it was a severe cyber-attack.  It has been reported that the attack had been launched by the Indian Intelligence agencies, discovered by Pakistan's intelligence apparatus. This information was shared by the Pakistan Army.
Moreover, in recent times another scam has also emerged, it consists of a WhatsApp one-time Password (OTP). As per the records, the scam had targeted a huge number of crowds from all over the country.
Read more: Govt actively monitored internet during the Pandemic: PTA
Source: Pro Pakistani