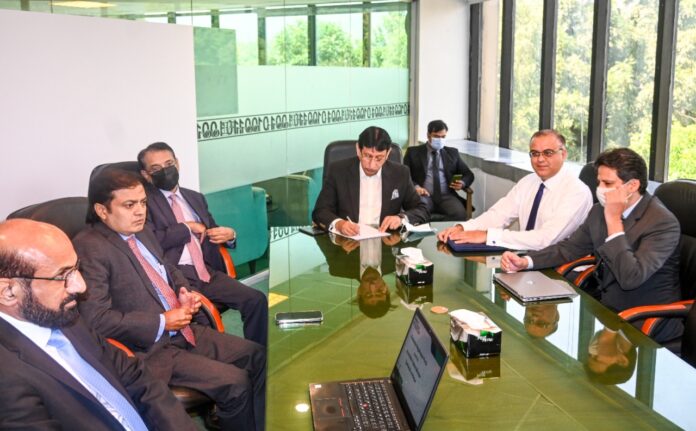 Federal IT Minister, Syed Aminul Haque recently launched an online portal for the registration of freelancers at the Pakistan Software Export Board (PSEB) head office. The IT Secretary, Dr. Sohail Rajput was also present at the event. The inauguration of the online portal for the registration of freelancers is amongst the several measures undertaken by the government to secure the growth of freelancers in Pakistan.
The inauguration ceremony was hosted held at the PSEB head office in Islamabad on Thursday. Federal Minister for IT and Telecom, Syed Amin-ul-Haq, Secretary MoITT, Sohail Rajput, MD PSEB, Osman Nasir, and other senior officials attended the launch event of the online portal.
Federal Minister for IT and Telecommunication Syed Amin Ul Haque inaugurated portal for online registration of #freelancers at Pakistan Software Export Board (PSEB) head office in Islamabad.#MOITT #digitalpakistan pic.twitter.com/mQft6fcgcx

— Ministry of IT & Telecom (@MoitOfficial) September 16, 2021
Registration of Freelancers Is Another Initiative Taken to Promote Freelancing Industry
Reflecting on the inaugurates of the online portal for the registration of freelancers, Syed Amin ul Haq, the IT Minister stated that Pakistani freelancers had fueled the growth of the economy in Pakistan. The freelance industry of Pakistan is growing rapidly. Registration of freelancers is a significant step forward in giving due acknowledgment to the contribution being made by Pakistani freelancers. The growth of Pakistani freelancers would improve the country's export profits.
Read more: IT Minister Calls Out Telecom Operators for Not Participating in the Spectrum Auction
Pakistani is the Second-Largest Supplier of Online Labour
Moreover, the managing director of PSEB, Osman Nasir said that Pakistan is regarded as the second-largest supplier of Online Labour in Software Development and Technology as per International Labour Organization Flagship Report 2021. The future expansion of Pakistan's freelancer industry directly relies on the availability of IT experts qualified in state-of-the-art technologies.
NFFP Aims to Accelerate the Development of Pakistani Freelancing Industry
Furthermore, the Federal IT Minister also noted that MoITT has outlined the National Freelancing Facilitation Policy (NFFP) after holding comprehensive consultations with all the associated stakeholders. The NFFP intends to expedite the sustainable development of the national freelancing industry. He further continued that the World Economic Forum (WEF) last month announced that Pakistani freelancers earned more than $500 million in 2020 and listed Pakistan as the fourth fastest-growing market in the world for freelancers.