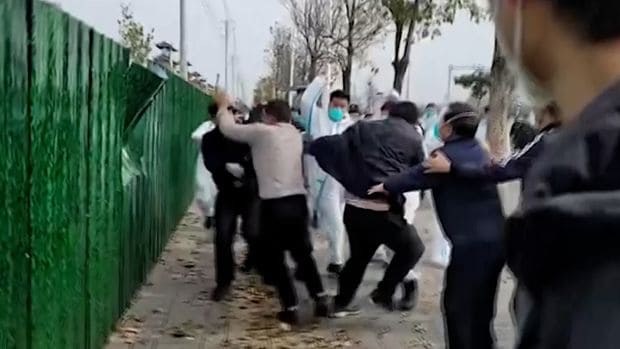 The world's largest iPhone manufacturing facility, Foxconn, witnessed a violent workers' revolt which erupted over the terms of the new hires' payment packages and Covid-related concerns. The videos circulated on social media show law enforcement officers kicking and hitting protesters with metal rods while the workers retaliated by throwing bottles and barriers at officers and smashing police vehicles. The ongoing situation could see iPhone manufacturing slashed by as much as 30%.
Foxconn's Offer Resulted in Mass-scale Resignations
In order to quell the protests, Foxconn offered to pay the newly recruited workers 10,000 yuan ($1,400) to quit and leave the factory. The company promised the protestors to pay 8,000 yuan if they agreed to quit Foxconn and another 2,000 yuan if they boarded buses to leave the iPhone's production site altogether. The reports stated that more than 20,000 workers accepted the offers, leading to a mass-scale resignation.
(1/9)
The latest survey & comment on the COVID-19 lockdown impact on the Foxconn Zhengzhou iPhone plants

— 郭明錤 (Ming-Chi Kuo) (@mingchikuo) October 30, 2022
Ming-Chi Kuo, an analyst at TF International Securities, tweeted that more than 10 percent of the global iPhone production capacity was affected by the situation at the Zhengzhou campus. The experts believe that the demand for iPhone 14 units during the black Friday holiday weekend would be much higher than the supply and could cause significant shortages leading into Christmas.
Brutal COVID Shutdowns and Violent Workers' Revolt is Affecting iPhones Production
COVID-19 lockdowns are becoming increasingly problematic for businesses working in China and within its borders, due to which various businesses, including Apple, are looking to bring manufacturing to several other places. Daniel Ives, managing director of equity research at Wedbush Securities, said, "Every week of this shutdown and unrest we estimate is costing Apple roughly $US1 ($A1.48) billion a week in lost iPhone sales. Now roughly 5 percent of iPhone 14 sales are likely off the table due to these brutal shutdowns in China."
Also read: Apple Investigates Indian iPhone Plant after Mass Food Poisoning