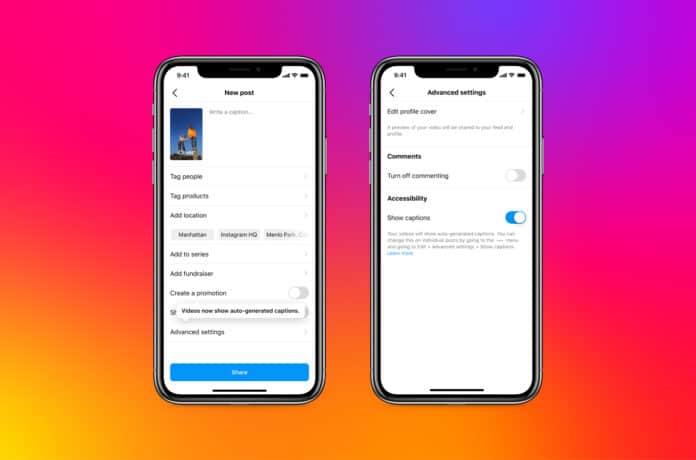 Instagram head Adam Mosseri announced that the company is introducing auto-generated captions for videos on its app. The auto-generated captions are launching in 17 languages, including English, Spanish, Portuguese, French, Arabic, Vietnamese, Italian, German, Turkish, Russian, Thai, Tagalog, Urdu, Malay, Hindi, Indonesian and Japanese. Instagram says support for more languages is coming soon.
Auto-generated captions to cater to deaf and hard-of-hearing communities
Instagram said that the new feature "will make Instagram more accessible for users who are in the deaf and hard-of-hearing communities," it is also particularly useful for users who would prefer to watch videos without sound and for creators who have to manually insert the captions up until now. An Instagram spokeswoman said; "Auto-generated captions on IG video will help people save time by spending less time captioning and more time creating amazing content."
The captions are generated by artificial intelligence (AI), and Instagram doesn't expect them to be flawless from the beginning. However, the company expects the quality to improve as the AI learns over time. The benefit of AI-generated captions is that content creators won't be asked to add captions themselves, Engadget reports.
Instagram to discontinue IGTV app
The auto-generated captions announcement came just after Instagram announced to discontinue its IGTV app. In a blog post, the company explained that the change is part of its efforts to make the video as simple as possible to discover and create. Instagram says it will now focus on having all videos on its main app and that it will continue to simplify and improve video in the main Instagram app over the coming months. The company is also planning on testing a new ad experience on Instagram, which will allow creators to earn revenue from ads displayed on their reels later this year.
Read more: Instagram Launches TikTok-like Text-to-Speech and Voice Effects to Reels
Source: Verge