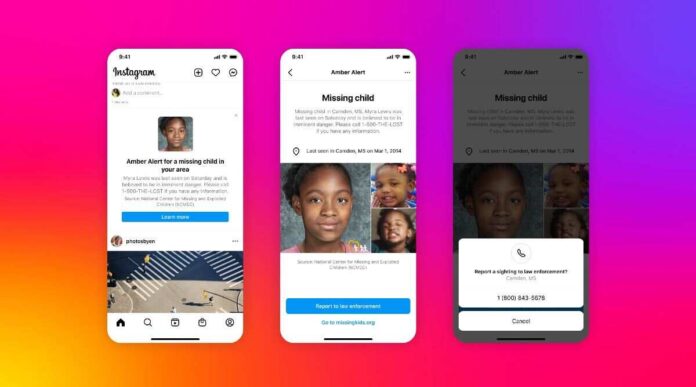 The popular photo-sharing app, Instagram, rolls out an AMBER alert feature, in 25 countries, that will help in locating the missing children. Announcing the feature, Instagram said in its blog post; "We know that the chances of finding a missing child increase when more people are on the lookout, especially in the first few hours. With this update, if an AMBER Alert is activated by law enforcement and you are in the designated search area, the alert will now appear in your Instagram feed." 
How does the AMBER alert feature work? 
Instagram said that it will use information like the city you list on your profile, your IP address, and location services to determine if an AMBER alert should be sent to you or not. The AMBER Alert is location-specific which means that the user will also receive it in their News Feed if there is an active search going on for a missing child in their vicinity.
Read more: Zainab Alert App Launched across Pakistan
According to Instagram; "The alert will include important details about the child such as a photo, description, location of the abduction and any other available information that can be provided. People can also share the alert with friends to further spread the word."  Michelle DeLaune, president and CEO at the U.S. National Center for Missing and Exploited Children, said; "Instagram is a platform based on the power of photos, making it a perfect fit for the Amber Alert program. We know that photos are a critical tool in the search for missing children and by expanding the reach to the Instagram audience, we'll be able to share photos of missing children with so many more people."
Which countries are getting the feature? 
Instagram has initially introduced AMBER Alerts for only 25 countries however it plans to expand it to other regions as well. The countries include Argentina, Australia, Belgium, Bulgaria, Canada, Ecuador, Greece, Guatemala, Ireland, Jamaica, Korea, Lithuania, Luxembourg, Malaysia, Malta, Mexico, the Netherlands, New Zealand, Romania, South Africa, Taiwan, Ukraine, UK, United Arab Emirates, and US.