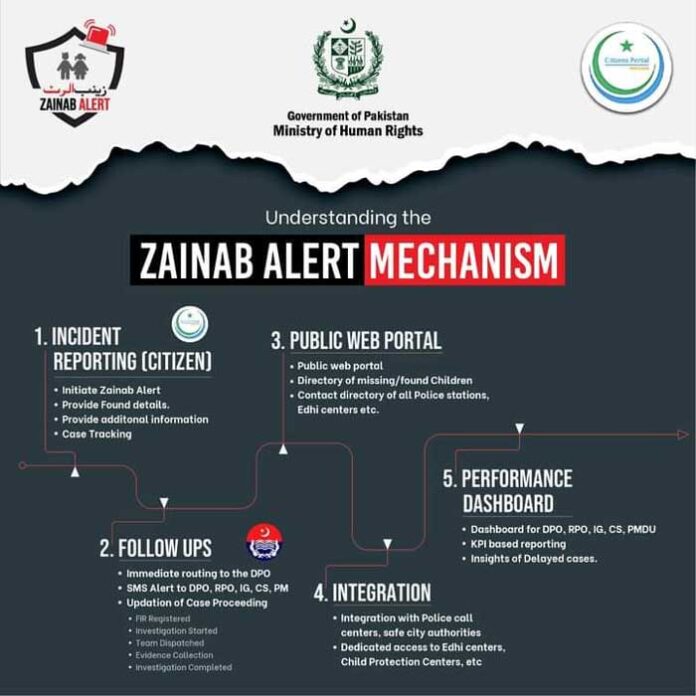 On 15th October, the Ministry of Human Rights launched the application, 'Zainab Alert' across Pakistan. This is an appraisable effort taken by the Federal Ministry of Human Rights. The access of the public web portal will help to strengthen and unify the measures taken to track and trace missing children and child abuse cases across Pakistan. The Zainab Alert system is a direct consequence of the Response and Recovery Act 2020, which was ratified by President Arif Alvi in March 2020. Amin Ansari, the father of Zainab Ansari was also present at the event as the guest of honor and launched the web portal nationwide.
Human Rights Minister, Shireen Mazari stated that the Zainab Alert system was launched in collaboration with the PMDU as part of the application of the Zainab Alert Act. "MOHR's existing helpline 1099 will also continue to be available," she said. She accentuated far-reaching awareness campaigns to stimulate the public about the rights of children and attitudes and behaviors that could help create secure and enabling surroundings for them to grow up.
The Zainab Alert system will activate the state machinery at significant regional and district zones for competent emergency response and retrieval of missing children. Through assimilation with the Pakistan Citizen's Portal, this alert producing system will be promptly accessible to 2.9 million registered users.
Developing of the Application
The application was developed by the Ministry of Human Rights in association with the PMPDU. The Zainab Alert applies advanced technologies and entails several primary features such as AI Face Recognition, Geo-tagging, and mapping, and real-time progress tracking and alerts to streamline and reinforces response and recovery alerts.
The event was attended by Asad Umar, Minister for Planning, he praised the measures taken by the Ministry of Human Rights, and commended its alliance with the Pakistan Citizen's Portal, which will aid to establish effective monitoring and evaluation.
Adil Saeed Safi, the Deputy Secretary of the PMDU was also present at the event and explained the technical features of the application. Citizens who are illiterate or do not have access to the internet, can visit any government office or institution and request that an alert be generated on their behalf.
Read More iPhone 12 among the first smart phones to have 5G experience