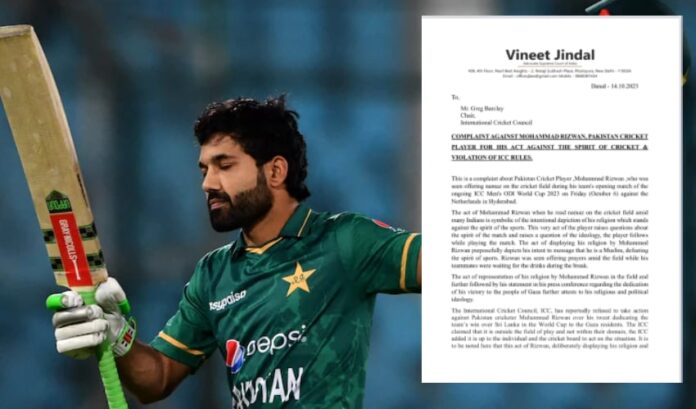 A complaint has surfaced against Pakistan's star wicketkeeper-batsman, Mohammad Rizwan, for offering prayers (namaz) on the cricket field during the World Cup 2023 match against the Netherlands. This incident has ignited a debate about the spirit of the game and its compatibility with religious expressions on the field.
Muhammad Rizwan Complaint: Questioning the Spirit of Cricket
Advocate Vineet Jindal, practicing in the Supreme Court of India, has filed a formal complaint with the International Cricket Council (ICC) chairman, Greg Barclay. Jindal's complaint expresses concerns about Rizwan's actions during the ICC Men's ODI World Cup 2023 match, where he was seen offering namaz on the cricket field. The complaint contends that this act raises questions about the spirit of the game and suggests that it symbolically represents Rizwan's religion, which, according to the complainant, contradicts the essence of sportsmanship. "This very act of the player raises questions about the spirit of the match and raises a question of the ideology, the player follows while playing the match. The act of displaying his religion by Mohammed Rizwan purposefully depicts his intent to message that he is a Muslim, defeating the spirit of sports," the complaint read.
खेल की भावना को जीवित रखने के लिए, अधिवक्ता विनीत जिंदल ने 6 अक्टूबर 2023 को क्रिकेट मैच के दौरान "नमाज़" की पेशकश करने के लिए पाकिस्तान क्रिकेट टीम के विकेटकीपर और बल्लेबाज मोहम्मद रिज़वान के खिलाफ अंतर्राष्ट्रीय क्रिकेट परिषद में शिकायत दर्ज की।
शिकायत की कॉपी आईसीसी एथिक्स… pic.twitter.com/w2Ezm6KaTy

— Adv.Vineet Jindal (@vineetJindal19) October 14, 2023
The complaint questions Rizwan's ideology behind offering prayers on the cricket field, arguing that it goes against the fundamental principles of the sport. Vineet Jindal further emphasizes that by doing so, Rizwan appears to be intentionally showcasing his religious identity, which challenges the core spirit of sportsmanship. The complaint, shared by Jindal on social media, has garnered significant attention and scrutiny.
The Intersection of Religion and Sport
This controversy involving Muhammad Rizwan extends beyond the boundaries of the cricket field. Rizwan's dedication of his match-winning century to the people of Gaza on social media has added a layer of complexity to the situation. This dedication, in light of the guidelines set by cricket's governing body, has placed Rizwan in a controversial space, where the boundaries between religion, politics, and sportsmanship are blurred.
Also read: Twitter Erupts as Video of Muhammad Rizwan Praying on New York Street Goes Viral