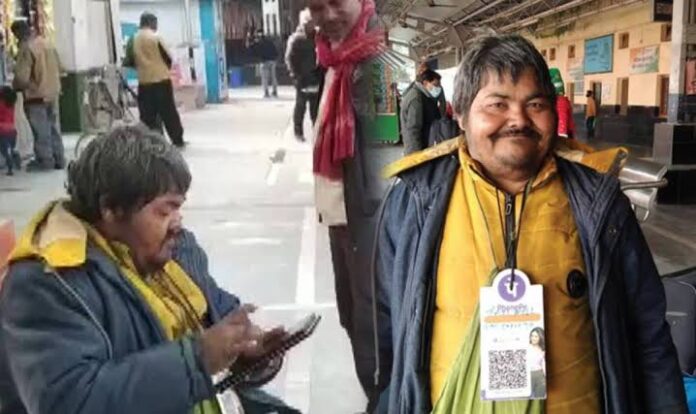 Raju Patel has ditched the traditional method of asking for alms and started using PhonePe instead, which is a digital wallet and an online payment app. People named Raju; "India's first digital beggar"
Bihar | Raju Patel, a beggar in Bettiah, goes digital; accepts PhonePe & puts a QR code around his neck

"I accept digital payments, it's enough to get the work done & fill my stomach," said Raju Patel

Visuals from Bettiah railway station pic.twitter.com/nbw83uXop6

— ANI (@ANI) February 8, 2022
India's first digital beggar goes viral
The 40-year-old India's first digital beggar, Raju Prasad, is keeping up with the times after hearing excuses from daily commuters as people don't carry change in their pockets nowadays and claims to avoid thugs in the name of beggars. Raju Prasad is reportedly inspired by Indian PM Modi's 'Digital India Campaign'. Speaking with an Indian publication, he mentioned that he never forgets to listen to the radio program of the BJP leader.
Read more: Tamil Nadu Couple Hosts One-of-its-Kind Wedding Reception in Metaverse
According to Patel, he has a bank account in the main branch of the State bank of India and he uses the e-banking feature to beg around Bettiah railway station. Raji also mentioned that the bank wanted his Aadhaar – unique twelve-digit numbers for identification purposes – and PAN card for opening the bank account, so he got himself a PAN made as well to set the ball rolling.
Beggar with QR Codes
Mobile payment in China, even beggar needs a QR code pic.twitter.com/H5sGKLRNW0

— Roy Chang (@Royzhangyi) August 27, 2017
A similar story was previously reported from China, where Chinese beggars were collecting alms by just using a sheet of paper with a QR code on it. Gathering near the tourist-packed areas, the beggars have begging bowls with a QR code-printed sheet on them. The availability of cheaper smartphones, coupled with the penetration of the internet has already brought even small kiosks such as paan wallahs to street vendors to accept digital payments.
Source: Indian Express