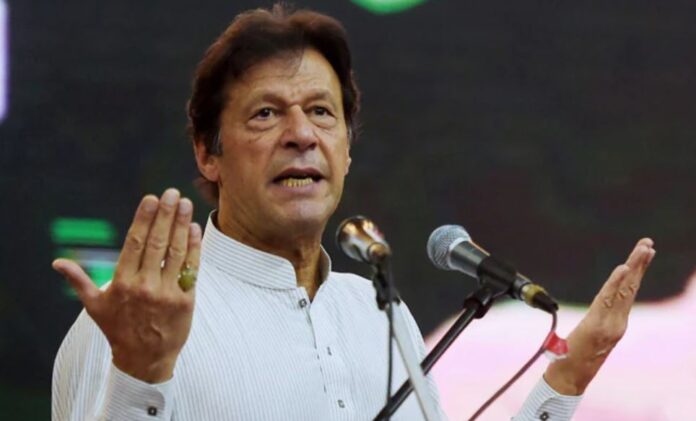 A website launched by the Chairman of Pakistan Tehreek-e-Insaf (PTI) Imran Khan to raise funds for an anti-government campaign has reportedly crashed due to an overflow of traffic. Multiple users stated that they visited namanzoor.com to deposit their donations in response to former prime minister Imran Khan's request but were unable to open it.
Some of them shared screenshots of the homepage of the website which appeared nonfunctional due to an overflow of traffic.
The Corrupt Government was Forced Upon the 22 Crore Population of Pakistan, Claims Imran Khan 
Former PM Imran Khan requested the public for donations in his video message on Twitter, he informed the overseas Pakistanis about the namanzoor.com website which is collecting donations from them to topple the regime of Shehbaz Sharif and hold new elections. He termed the campaign "Haqiqi-Azadi" and said that the "corrupt government" was thrust upon the 22 crore population of Pakistan. He urged people to participate wholeheartedly in the campaign and for that he requires funds. Khan stated that this would be the true struggle for freedom for Pakistan. Following the video message of Imran Khan, people rushed to the website to donate their funds. Hence, the website crashed due to an overflow of traffic.
بیرونِ ملک مقیم اپنے پاکستانیوں کے نام میرا پیغام! pic.twitter.com/dAaiXXFJ3e

— Imran Khan (@ImranKhanPTI) April 15, 2022
The Overflow of Traffic on the Website Did Not Deter Pakistanis From Supporting Imran Khan 
Moreover, it is not clear yet how much money has been collected through the website and how many users have visited namanzoor.com during the last few days even after the overflow of traffic. PTI supporters are applauding overseas Pakistanis for their response to Imran Khan's appeal. Meanwhile, Imran Khan is preparing to address a rally in Karachi as part of his campaign to force Prime Minister Shehbaz Sharif and his supporters to declare a general election.
Read more: 'America's Judges Have Won' Hashtag Trends on Twitter in Favor of Imran Khan