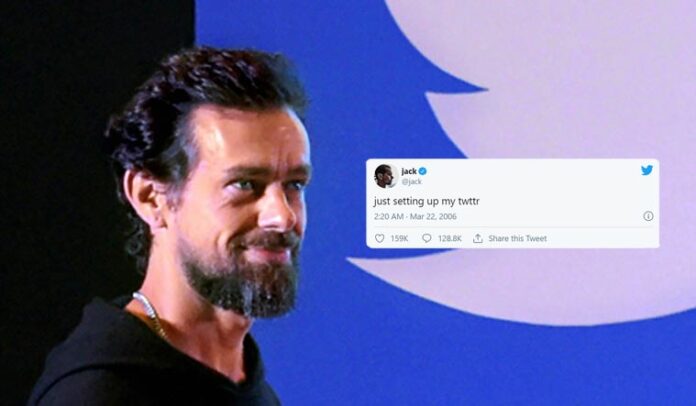 In March 2021, Jack Dorsey, then-CEO of Twitter, auctioned his first tweet as an NFT on the "Valuables" platform, which was sold for $2.9 million. Jack Dorsey's first tweet — "just setting up my twttr" — was purchased by Indian-born crypto entrepreneur Sina Estavi.
Jack Dorsey's first tweet NFT drops 99% in valuation
Last Thursday, Estavi announced that he wished to sell the NFT, and pledged 50% of its proceeds to go to charity – Give Directly, which helps East African families in extreme poverty "by making unconditional cash transfers to them via mobile phone." He was expecting that the proceedings would increase to $25 million. Yet in an auction this past week, no one bid more than $280 for it, even current bids on OpenSea only amount to about $10,000, which is a 99% drop in value.
Estavi told; "The deadline I set was over, but if I get a good offer, I might accept it, I might never sell it," He further added that my offer to sell was high and not everyone could afford it. It's important to me who wants to buy it, I will not sell this NFT to anyone because I do not think everyone deserves this NFT. Jack Dorsey's first tweet NFT owner refers to the tweet as the 'Mona Lisa of digital world
Read more: Twitter CEO Jack Dorsey says bitcoin will be a big part of the company's future
Taking a dig on Elon Musk
Regarding Jack Dorsey's first tweet NFT,  Matt Navarra, social media consultant, said; "Maybe Elon Musk will buy it." Estavi also retweeted Elon Musk's tweet saying; "It's not good if the owner of the whole Twitter does not own the first tweet :)"
It's not good if the owner of the whole Twitter does not own the first tweet 🙂 https://t.co/unNZBpNcg6

— Estavi (@sinaEstavi) April 14, 2022
Maybe Elon will buy it https://t.co/bCzrlneVke

— Matt Navarra (@MattNavarra) April 14, 2022