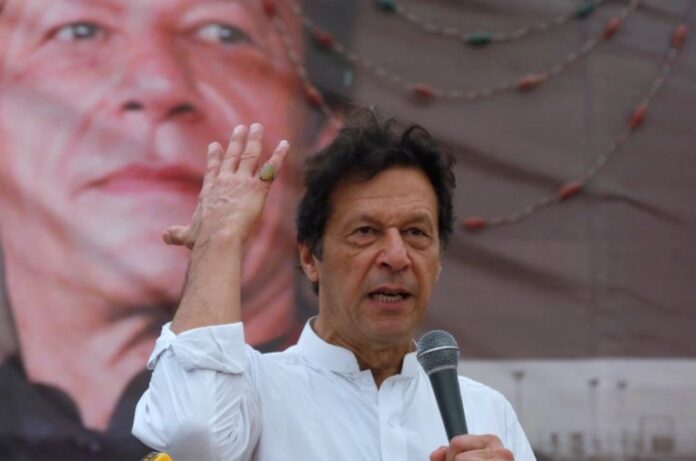 In the recent news, Pakistan's Supreme Court overturned Prime Minister Imran Khan's strategy to hold an election, a move that could bring the opposition to power within days. A board of five judges on Thursday termed as unconstitutional a parliamentary ruling that nullified a no-confidence vote against Imran Khan and reinstated the vote to Saturday. The unanimous judgment stated that the cabinet and parliament still stand.
Pakistani Currency Taking a Hit in the Nationwide Political Crisis
Furthermore, due to the recent political crisis, the Pakistani rupee is trading at a record low against the U.S. dollar. According to the latest data, the nation's foreign currency reserves dropped to $11.3 billion as of April 1, the lowest in about two years and enough to cover a couple of months of imports. Moreover, Prime Minister Imran Khan faces a possible exit but has, once again, swore to "fight" after his intent to keep the opposition at bay against a no-confidence vote failed. 
The Supreme Court has ruled that the president's action to dissolve Parliament on Khan's suggestion was unlawful and ordered the National Assembly to be restored. Imran Khan will now face a no-confidence vote by politicians that he attempted to evade after the parliament deputy speaker threw out the no-confidence motion earlier this week. The National Assembly is planned to meet on Saturday and the opposition appears to be certain to overthrow Khan.
History will remember 1 thing, Imran khan wasn't removed for Corruption, money laundering or Betraying the Nation but He was removed due to his integrity, He stood against world powers & Mafias within Pakistan#SupremeCourt #BehindYouSkipper #اگلی_واری_پھر_کپتان #جنگ_ابھی_جاری_ہے pic.twitter.com/aVrvVaejSt

— Arslan (@Arslan_GB) April 8, 2022
"My message to our nation is I have always and will continue to fight for Pak till the last ball," the former national cricket team captain on Twitter after the top court's decision which has been dubbed as "historic". The people should decide what they want, not foreigners. Buying people's support with money has resulted in this (situation). Put that money into something better, for orphanages etc. I implore the nation to prepare for elections. You will decide the future of this nation, not foreigners or corrupt people," stated Imran Khan in his nationwide address.
America's Judges Have Won Tag Trending on Twitter in Favor of Imran Khan 
In addition to this, countless people have taken to Twitter to show their support for Imran Khan in these chaotic times. The hashtag #آمریکا_کے_جج_جیت_گئے (America's Judges Have Won) is trending on Twitter with tweets in favor of Imran Khan. 
#ImranKhana a real game changer he is not here to play a game, he is here to change the game. Prime Minister Imran Khan will turn the tide tomorrow insha'ALLAH❤then why disappointed ?? Just don't lose hope.#Bajwa #amirliaquat #جنگ_ابھی_جاری_ہے #آمریکا_کے_جج_جیت_گئے pic.twitter.com/KFwJV2vHvm

— Precious Aarbi (@AarbiiSayss) April 7, 2022
This is the battle of haq and baatil and IMRAN KHAN will win this game. IN SHA ALLAH#آمریکا_کے_جج_جیت_گئے pic.twitter.com/M2Yw4PnWZr

— 𝕚𝕤𝕞𝕒𝕚𝕝ⁱᴾⁱᵃⁿ𓃵 (@GURU11JI) April 7, 2022
Read more: Pakistani Rupee Plummets to a Record Low of 188.18 Against USD