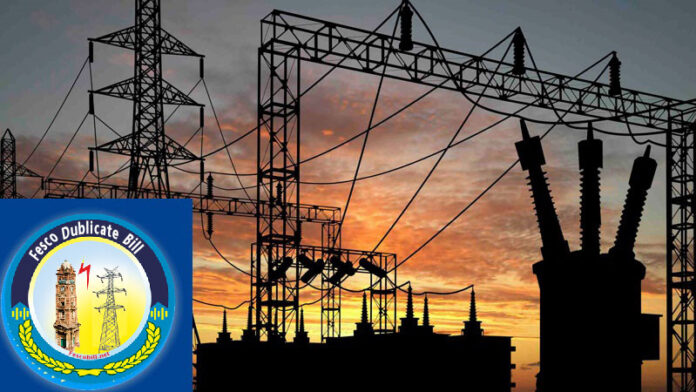 FESCO stands for Faisalabad Electric Supply Company. FESCO provides electricity to nearly 4.01 million clients. The estimated total population under the FESCO territory is over 26 million. FESCO is one of the best electricity distribution companies in Pakistan in terms of operational performance, because there is a very low amount of loss in its power distribution system and, on the other hand, the collection of bills is higher. Its primary service area is Faisalabad, known as Manchester of Pakistan for its extensive textile enterprises. Consumers can clear their bills via the FESCO online bill facility.
How to Check FESCO Online Bill?
Follow the steps to check FESCO online bill:
For residential, commercial, or industrial power connections, you can check your FESCO online bill.
You will receive your FESCO online bill after entering the 14-digit reference number in the entry form.
Use the form above or go to the FESCO billing page.
Obtain the prior invoice's reference number.
Paste it into the blank dialogue box that asks for the phone number.
Check the "Electricity Bill (General and Industrial)" type tab.
Wait a few seconds after pressing the "Submit" button.
The most recent month's digital WAPDA online bill FESCO will be displayed.
After that, you can either have it printed or pay your FESCO online bill. 

Tax Charges in FESCO
Funding Surcharge (FC-SUR): On June 10, 2015, a Funding Surcharge (FC-SUR) was enforced. These charges are paid for the depreciation in units in order for Power Holding Pvt. to accumulate debt service. The FC Surcharge is determined at 0.43 cents per unit.
GST: It is a sales tax that is applied to the cost of electricity. Presently, the GST rate is 17 percent.
Arrears: An arrear is an amount that is still owed on a previous utility bill. If you've split your invoice into payments or only paid part of it, you'll be able to see this field.
Tariff Rationalization Surcharge (TR Surcharge): This is an added fee for tariff rationalization. Tariffs imposed by NEPRA and the GOP add to the TR cost. The government will announce standard tariffs for all distribution businesses, and NEPRA will determine to price.
Coverage Areas of FESCO 
FESCO handles the responsibility for the provision and maintenance of electricity in the following areas of Pakistan:
Faisalabad
Sargodha
Mianwali
Khushab
Jhang
Bhakkar
Toba Tik Singh
Chinot
Payment FESCO of Bill
Once you have received your FESCO electricity bill, you can pay it either online or offline. Here is further information on how to pay:
Pay offline: You can pay your FESCO utility bill at any commercial bank or post office branch. For offline payment, a printed copy of the bill is required.
Pay Online: You can pay your bill online with any bank. You can obtain internet banking information from your bank branch, then download the bank app to effortlessly pay your bills. You can pay your FESCO electricity bill with EasyPaisa or JazzCash in addition to bank accounts.
FESCO Online Complaint System 
The company also offers an online complaint system, where users can register their complaints. The clients are simply required to go to the official website and fill out the registration form. They can fill out their complaint form and provide their particular reference number. After a quick draught of a complaint, submit it. After submitting the complaint, the users will be given a complaint number, which is important since it will allow them to trace their complaint. 
Read more: Here is How You Can Check Your HESCO Online Bill in 2022