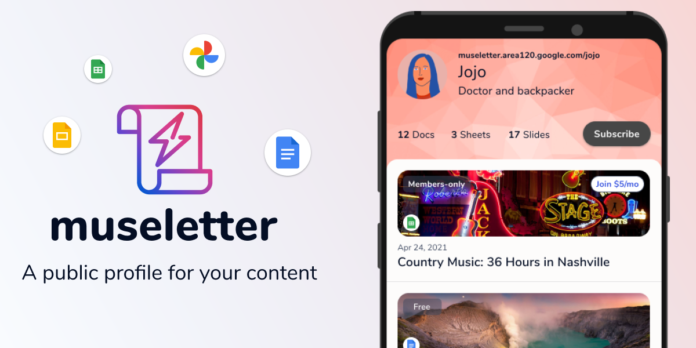 Tech giant, Google is now exploring the domain of newsletters. As of recent reports, Google's internal R&D division, Area 120, has a new project called Museletter, which enables anyone to publish Google Drive files as a blog or paid newsletters to their Museletter public profile or to an email list.
The application would actually repurpose Google's existing document-creation tools as a method of competing with other paid newsletter platforms, such as Substack, Ghost, Revue, and others, which are today bringing in an increasing audience.
Google Museletters Are Still in Experimental Stage
When Google was reached out for a comment, an Area 120 spokesperson refused to share further details about Museletter, stating only that it was "one of the many experiments" within the R&D group and that "it's still very early."
Read more: Google Illegally Underpaid Temporary Employees for Years, Violating Labor Laws
Furthermore, the information gathered from the Google Museletter website explains that how Google Drive could be monetized by creators in a way that would enable Google's newsletter project to distinguish itself from the competition. Not only could the paid newsletters be composed in a Google Doc, but other productivity apps could be further used to share information with readers.
Creators Can Form Subscriptions Plan to Earn Money Through this New Development
For instance, a newsletter creator could offer a paid subscription plan that would enable readers to access their Google Drive Files or Slides in the form of paid newsletters. A creator who writes regarding finance could publish helpful spreadsheets to Google Sheets, which would be open to their subscribers.
Moreover, to make this attainable, Google Museletter publishers would form a public profile on their Google Drive, then publish Google Drive files directly to it. This presents them with a grounding page where they can promote their subscriptions and showcase how many various Drive files, they've made publically obtainable across Docs, Sheets, and Slides.
The Paid Newsletters Can Also be Emailed to Subscribers
In addition to this, Creators can also publish the paid newsletters to an email list — including a list brought in from other platforms. The Google newsletter subscriptions can be free or paid, depending on the creator's choices, but using Google Museletter itself will be free.
Source: TechCrunch