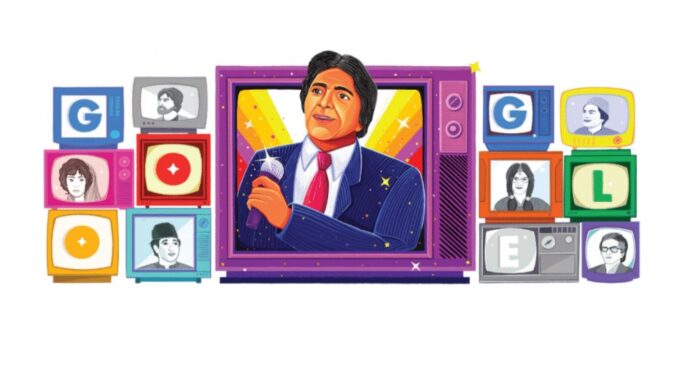 Today's Google Doodle, illustrated by Lahore-based artist Hazem Asif, pays tribute to the legendary Moin Akhtar, on his 71st birthday. According to the Doodle Archive, Moin Akhtar was a "champion of everyday people" and widely considered as one of Pakistan's most renowned comedic entertainers.
A Google Doodle Tribute for the Legendary Moin Akhtar 
Hazem told Google Doodle, "Never in my life did I think of working as a guest artist for Google Doodle or let alone designing a Doodle for the legendary Moin Akthar. I was not expecting it and when I was approached at first, I felt humbled and honored. I had already decided that I will put all my heart and soul into creating a perfect tribute to celebrate Moin Akhtar's 71st birthday. Working on this project for Google Doodle has been the most rewarding experience of my career to date." He also shared his illustration on Twitter.
Beyond honoured and thrilled to share my latest collaboration with Google celebrating the 71st Birthday anniversary of the late legendary Moin Akthar. #Moinakthar #googledoodle #Moinaktharbirthday #doodle #pakistan #comedy pic.twitter.com/IyxLi4xtm8

— worldofhazem (@AsifHazem) December 23, 2021
Furthermore, the legendary comedic actor was born in Karachi, Pakistan on this day in 1950, Moin started his stage career at 16 and quickly became known for his skillful impersonations and side-splitting performances. After a breakout 1966 impression on a famous Pakistani talk show, Akhtar became a household label.
Read more: Pakistan to Collectively Launch a TV Channel with Turkey and Malaysia
Some of his famous TV drama comprise 'Intezar Farmaiye', 'Rozi', 'Aangan Terha', 'Studio Dhai', 'Bund Road', 'Studio Ponay Teen', 'Eid Train', and 'Yes Sir, No Sir'. His collaborations with humorist Anwar Maqsood and actress Bushra Ansari on exceptional stage dramas and television shows acquired him widespread acclaim.

He Received Honorable Accolades During His Life Time 
Moreover, the Government of Pakistan awarded 'Pride of Performance' to Moin Akhtar back in 1996. In 2011, he also obtained 'Sitara-i-Imtiaz' which is the third-highest honor in Pakistan. He passed away in his home city on 22 April 2011, after undergoing a heart attack. His death was grieved by every Pakistani, even some prominent figures from across the border paid their homage to the legendary entertainment figure Moin Akhtar.
Source: Pro Pakistani