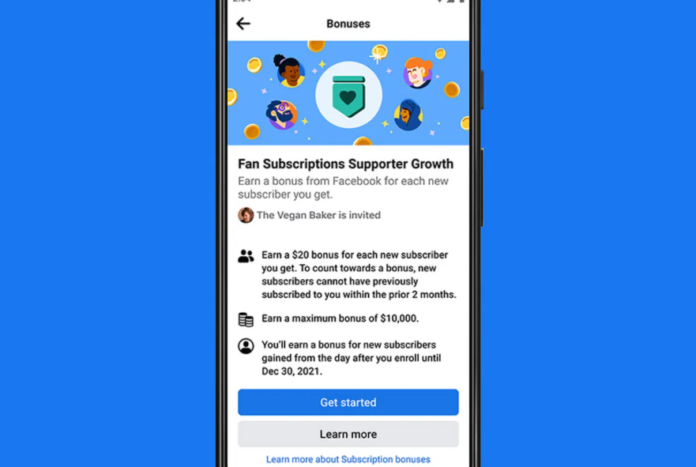 In the recent news, social media giant, Facebook has just announced its plans to sneak around Apple's App Store fees, the latest strike in an ongoing conflict between significant software corporations and the creator of iOS. In a blog post, Meta's CEO Mark Zuckerberg stated that the social network would give qualified creators on its platform new custom subscription links that allow them to receive payments directly, dodging Apple's controversial 30% cut.
Through Custom Subscription Links Creators Can Earn More 
"As we build for the metaverse, we're focused on unlocking opportunities for creators to make money from their work," Zuckerberg said. "The 30% fees that Apple takes on transactions make it harder to do that, so we're updating our Subscriptions product so now creators can earn more."
Moreover, content creators who manage Facebook pages suitable for custom subscription links can share the new promo links through text or email, leading their fans to a payments portal run through its own payment system, Facebook Pay.
To Avail the Facebook Promotional Links Page Owners, Need to Have 10,000 Followers
Facebook's Patreon-like custom subscription links product provides people with popular Facebook pages access to special monetization means for monthly recurring payments. To sign up, the present qualification rules expect a page owner to have 10,000 followers or more than 250 return viewers plus either 50,000 post engagements or 180,000 minutes watched.
Read more: Apple Generates an Impressive Revenue of $83.4 Billion in Q4 FY 2021
The social media giant has stated that it won't be collecting any payments of its own from creator payments through 2023, unlike Apple's App Store fees, though given its assertive transit into the space the corporation definitely has plans to cash in on the booming creator economy after providing people a few initial years rent-free.
Apple's App Store Fees Produces Massive Profits for the Company 
Apple has historically secured a standard 30% compensation from all paid apps and in-app payments made through iOS under Apple's App Store fees — a toll that produces massive revenue for the firm. Late last year Apple launched smaller app makers a bone, decreasing Apple's App Store fees to 15% for developers who earn under $1 million annually.
Source: TechCrunch