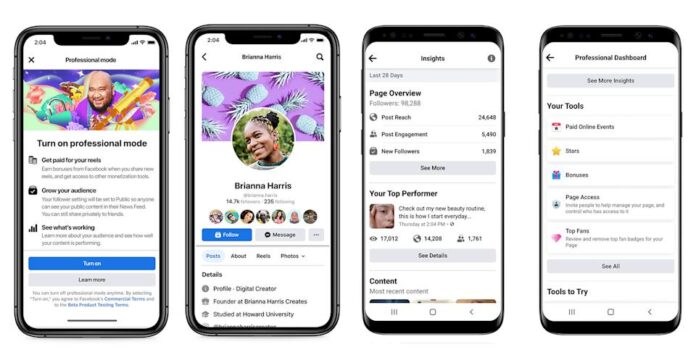 Facebook rolls out professional mode for profiles for content creators to take advantage of the monetization tools. The professional mode for profiles, initially available to select creators in the U.S., will present creators with additional money-making opportunities and expanded insights that had been previously only available to Facebook Pages.
Read more: Instagram is Offering Bonus to Creators to Post Reels on its Platform
Professional mode for profiles let creators take part in the reels play bonus program
By turning on professional mode for profiles, the creators will take part in the reels play bonus program. The reels bonus program lets creators earn up to $35,000 per month,  depending on the number of views their Reels attract, this program is currently invite-only, and creators must comply with Meta's Partner Monetization Policies to qualify. Meta additionally said that the new professional mode would be coming to more countries in the coming months.
The professional mode for profiles unlocks audience, post, and profile insights, which lets creators keep track of any activity on their profile. Creators can review the total number of shares, comments, and reactions that their posts have received and see how their follower count has changed over time. Meta wrote in as blogpost; "Once you turn on professional mode for your profile, anyone can follow you and see your public content in their feed, but you'll still be in control of who sees what content you share. That means you can share public updates or decide to share content with just your friends, too."
The star store
Yesterday, Facebook also introduced a star store – another feature to help creators. The star store is a dedicated website where users can buy the pack of stars with real money to tip their favorite content creators. Viewers can purchase packs of 100 Stars for $1.40, and streamers will get 1 cent per Star sent during live streams. For fans who want even more access, Facebook is testing paid, supporter-only groups for monthly subscribers, letting them connect with creators in a more private space.
Source: Tech Crunch