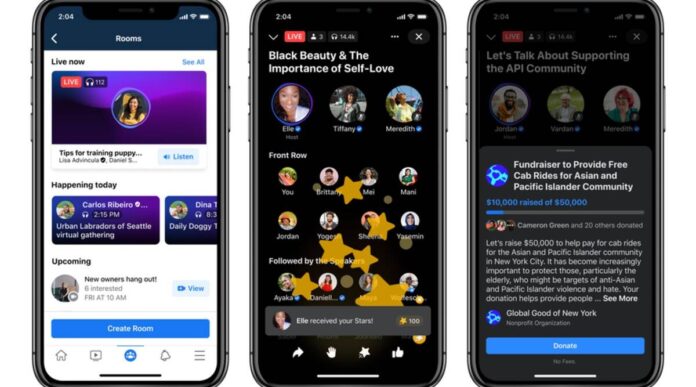 Facebook Live Audio Rooms launched in June to the US public figures are now rolling out to more public figures and creators outside the US as well as non-US-based Facebook Groups. Apart from the iOS app, Facebook live audio rooms can be created through the android app and desktop as well. In groups, admins can toggle between public and private options to manage their audience, they can so remove or add people as per their preference.
Read More: Facebook Now Allows Cross-App Group Chats Between Messenger and Instagram
Facebook Live audio rooms will serve as a lightweight means of connection and conversation between communities
As for now, the audio section will feature the content from the creators you are ready following including the suggestions of other audio that's popular across Facebook. As per Facebook, the destination will become more personalized to your own tastes and interests over time, as you engage with the audio content and follow more creators.
In Facebook live audio rooms the event's hosts appear in rounded profile icons at the top of the screen, while the listeners appear in the bottom half of the screen, as smaller icons. The active speaker is indicated with a glowing ring. There are also options for enabling live captions, a "raise hand" tool to request to speak, and tools to share the room with others on Facebook through things like News Feed or Group posts.
Facebook has also been working on tools that would help to identify and act upon content that violates its Community Standards, this includes tools to automatically identify harmful content on Facebook. Facebook said that it's adapting both its technology and processes to detect and moderate violating audio content.
Soundbite – short audio clips
The social media giant, Facebook plans to introduce multiple changes for its users, including the addition of sound creation tools backed by artificial intelligence and a new audio format called Soundbites. The new Soundbites audio format will be reserved for short audio clips, for example; someone can share a Soundbite of them telling a joke rather than typing it out. Also, users will soon be able to play podcasts directly in its app, with the phone's screen turned off.
Source: Tech Crunch