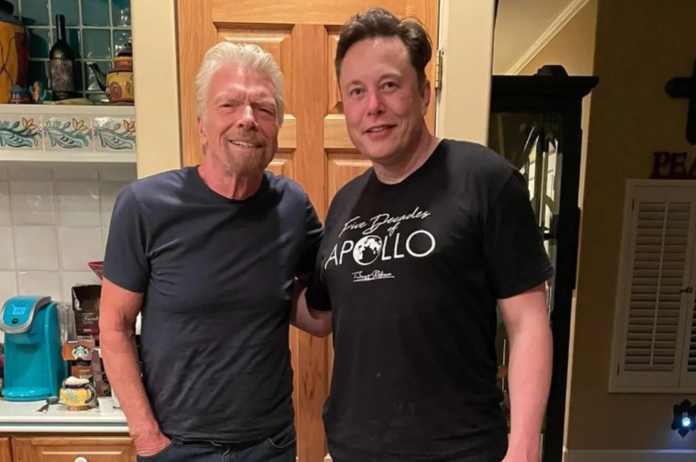 Billionaire CEO of Tesla and SpaceX, Elon Musk has reportedly scheduled a flight to suborbital space with Virgin Galactic. Musk has booked the flight days after Virgin Galactic founder Richard Branson traveled to the edge of space.
A spokesperson for Galactic stated that Mr. Musk had purchased a ticket for his space trip. It is unclear how far up the waiting list Mr. Musk is for a seat. Virgin Galactic announced that its tickets have been sold for $250,000 each, and the firm has secured $80 million in sales and deposits.
Branson on Sunday reached the edge of space with three representatives, including one of Indian-origin, and arrived safely back to Earth, onboard his firm Virgin Galactic's VSS Unity. It was the 22nd test flight of VSS Unity and the first test flight with a whole crew in the cabin.
Read more: Richard Branson achieves his space dream, as he successfully reaches the edge of space
Big day ahead. Great to start the morning with a friend. Feeling good, feeling excited, feeling ready.

Watch #Unity22 launch and livestream TODAY at 7:30 am PT | 10:30 am ET | 3:30 pm BST.@virgingalactic @elonmusk https://t.co/1313b4RAKI pic.twitter.com/FRQqrQEbH8

— Richard Branson (@richardbranson) July 11, 2021
It was an "experience of a lifetime", described the 70-year-old billionaire. The flight soared almost 86 kilometers above the Earth's surface. Besides Branson, the rocket plane carried Beth Moses, Chief Astronaut Instructor, Colin Bennett, lead Operations Engineer, and Indian-origin Sirisha Bandla, Vice President of Government Affairs at Virgin Galactic.
Read more: Richard Branson aims to beat Jeff Bezos into the space race by nine days
Furthermore, Musk has had his sights on space for some time now. He intends to send giant spacecrafts into space with the aim of eventually reaching Mars, and in the meantime, SpaceX has been occupied sending resupply missions to the International Space Station and installing satellites in orbit in order to transmit broadband signals to Earth. Along with it, Bezos, who last week stepped down as CEO of Amazon, prepares to travel to space on Blue Origin's New Shepard rocket on July 20.
Source: The Verge