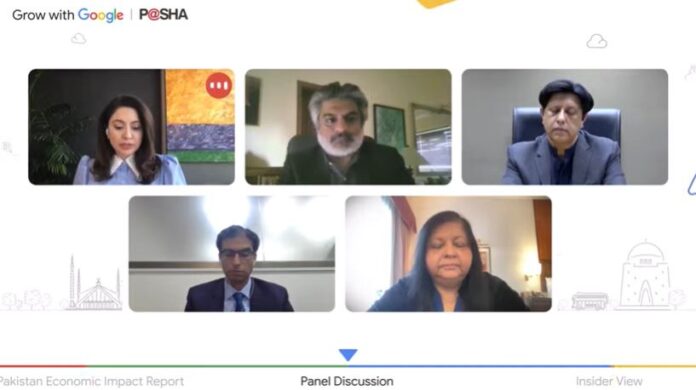 Digital transformation can help Pakistan unlock up to Rs.9.7 trillion in annual economic value by 2030, equal to around 19% of the country's GDP in 2020, as per a new report published by Google.
IT Exports are Expected to Reach $3.5 Billion in 2022
The said report — published at a recent Google / [email protected] online event, "Unlocking Pakistan's Digital Potential" – finds that Pakistan has a flourishing technology sector. The country is home to over 300,000 IT specialists, delivers over 25,000 IT graduates yearly, and has sustained over 700 tech start-ups since 2010. IT exports have increased 15% per year since 2020 and are expected to reach USD3.5 billion in 2022. Pakistan's online population has increased rapidly and the internet penetration rate is touching 54% in 2021.
Google States Three Pillars for the Digital Transformation in Pakistan 
Despite these many accomplishments, Pakistan can go further in its digital transformation journey and contribute more to annual economic value. The report, devised by statisticians at AlphaBeta, classifies three main pillars of business Pakistan could take to reach the proposed growth opportunity. This involves developing infrastructure to promote the local tech ecosystem, proceeding to build a favorable environment for IT export, and supporting innovation and digital skills in the country.
There are eight key technologies that can help Pakistan to further step in digital transformation and raises the annual economic value. These include the mobile internet; cloud computing; big data; AI; fintech; IoT and remote sensing; advanced robotics; and additive production. Farhan Qureshi, Regional Director, Pakistan, Bangladesh, and Sri Lanka, Google, considers that despite the difficulties caused by the pandemic, the future for Pakistan's digital economy is bright.
Google Will Work with [email protected] and Other Government Agencies
"Digital transformation is vital for Pakistan and it's annual economic value to address the long-term implications of the COVID-19 pandemic and build long-term resilience and growth. At Google, we aim to play our part by equipping Pakistanis with helpful products and tools, tech know-how, and online safety skills. Going forward, we will continue working with partners like [email protected] and the various government agencies to help fulfill the Digital Pakistan Vision" said the Country Director.
To download the full copy of AlphaBeta's report, please access this link.
Read more: Pakistan's First Free Digital Studio Established in Karachi