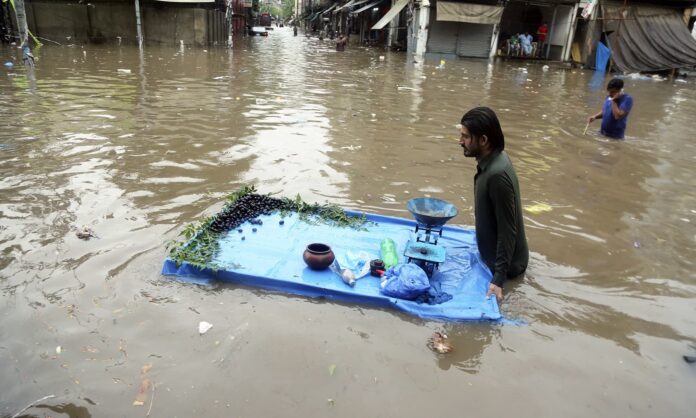 Lahore, the capital city of Punjab, was ravaged by a catastrophic episode of urban flooding, resulting in tragic loss of lives and extensive damage. Incessant monsoon rains shattered a 30-year record, unleashing torrential downpours and inundating major streets and low-lying areas. Due to urban flooding in Lahore, the city now grapples with the aftermath of this devastating event.
Urban Flooding in Lahore: Lives Lost and Infrastructure Devastated
The deluge of rainfall in Lahore proved fatal, claiming the lives of numerous individuals. Reports indicate that at least seven people lost their lives due to the flooding. Electrocution incidents resulted in three fatalities, while two individuals tragically perished when roofs collapsed under the weight of accumulated rainwater. Additionally, a child met a heartbreaking end after drowning in the floodwaters.
The destructive power of the floodwaters wreaked havoc on the city's infrastructure. Streets and roads turned into virtual rivers, making transportation nearly impossible. Vehicles were left stranded or rendered inoperable as knee-deep water engulfed the roads. Furthermore, residential areas in low-lying regions, such as Shah Jamal and Tajpura, experienced water entering homes, compounding the misery of residents.
Efforts to Mitigate the Catastrophe
In response to the dire situation, the city administration and the Water and Sanitation Agency (Wasa) swiftly initiated measures to address the flooding and alleviate its impact. Drainage operations were launched to clear waterlogged areas, although the massive scale of the flooding posed significant challenges. The combined efforts of the authorities and relief teams aimed to restore normalcy and provide support to the affected population.
Preliminary assessments have begun to gauge the extent of the damage caused by the urban flooding. Infrastructure, including roads, bridges, and public facilities, suffered severe destruction; homes and businesses bore the brunt of the flooding, with properties sustaining water damage and loss of possessions. The full extent of the economic losses and the required recovery efforts are yet to be determined as authorities continue their evaluation.
Punjab Chief Minister Mohsin Naqvi said that record-breaking rain had caused urban flooding while the canal overflowed following heavy rainfall. "All the cabinet members and administration are in the field to clear the water. I am also monitoring the situation in the field and getting updates from all over Lahore continuously," he said.
Urban Flooding and record breaking rain of 272ml in just 9 hours causing water ponding on roads in Lahore. Canal has also overflown.
All Cabinet members & Administration are in field to clear the water.
I am also monitoring the situation in field and getting updates from…

— Mohsin Naqvi (@MohsinnaqviC42) July 5, 2023
Read more: Mufti Menk and Angelina Jolie Arrive in Pakistan to Help and Support the Flood Victims