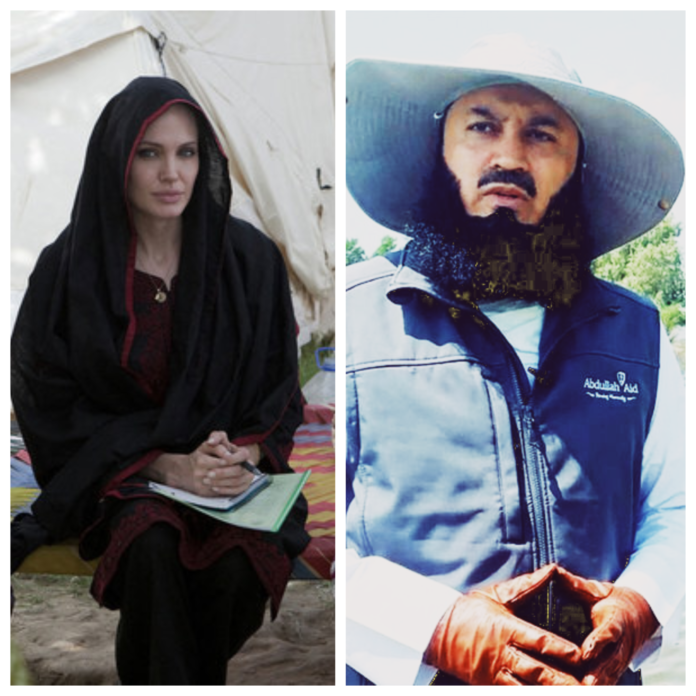 Internationally acclaimed Hollywood actress and special envoy to the UN High Commissioner for Refugees, Angelina Jolie, and Mufti Menk, a renowned Muslim Scholar have arrived in Pakistan to help and support the communities affected by the devastating floods.
Angelina Jolie and Mufti Menk Landed in Flood-hit Districts
The Hollywood actresses landed in the Dadu district to meet the flood-affected women and spoke to them about their needs. Jolie is visiting Pakistan to witness "firsthand how countries like Pakistan are paying the greatest cost for a crisis they did not cause."  IRC mentioned that Jolie is set to highlight the need for urgent support for the Pakistani people and long-term solutions to address the multiplying crises of climate change, human displacement, and protracted insecurity. According to the statement released by the International Rescue Committee (IRC), she will visit flood-affected areas and communicate directly with the people.
Previously, Angelina had visited Pakistan during the 2010 floods and the 2005 earthquake in Pakistan to assist the displaced people. Shabnam Baloch, the Pakistan Country Director at the IRC, said; "We need immediate support to reach people in urgent need, and long-term investments to stop climate change from destroying our collective futures. With more rains expected in the coming months, we hope Angelina Jolie's visit will help the world wake up and take action."
A renowned Muslim scholar, Mufti Menk, also visited the flood-hit areas and appealed to the international community to help Pakistan as much as they can. The Islamic scholar visited various parts of Sindh, which is the most affected province, and said that the situation is unimaginable. He said; "Donate a tent. Help a Family!"
Ertuğrul StarReached Karachi to Take Part in Flood Relief Efforts
Turkish actor Celal Al, who plays Abdurrahman Alp in the renowned Turkish series Diriliş: Ertuğrul, arrived in Karachi to join on-ground flood relief efforts for the affected families. The actor has flown from Turkey to cater to flood victims in the country via the Turkish Red.
Also read: Prince Rahim Aga Khan Donates $10 Million to Pakistan Flood Relief Efforts