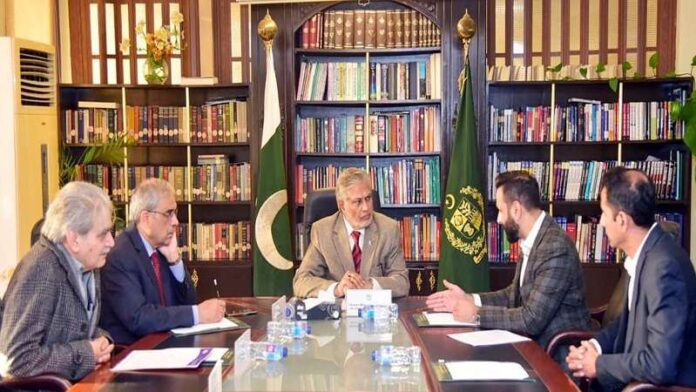 Federal Minister for Finance and Revenue, Ishaq Dar, has made a startling revelation about an international conspiracy aimed at destabilizing Pakistan's economy. During the Standing Committee on Finance, Dar vehemently condemned the ongoing efforts by foreign elements to push the cash-strapped nation into defaulting on its debt payments. This revelation raises concerns about the economic stability of the country and its ability to honor its international obligations.
Dar Exposes International Conspiracy

Dar's assertion about an international conspiracy targeting Pakistan's economy has ignited widespread concern and prompted significant repercussions nationwide. He drew parallels with the case of Sri Lanka, where similar efforts led to a default on debt payments. According to Dar, foreign elements are working tirelessly to force Pakistan into a similar situation. These revelations shed light on the geopolitical dynamics at play and the challenges faced by Pakistan's financial system.
During the committee meeting, Dar criticized the International Monetary Fund (IMF) and accused the global lender of wasting Pakistan's time. He revealed that the IMF has objected to tax exemptions in the budget for the upcoming fiscal year, undermining Pakistan's sovereignty in determining its tax policies. Despite this disagreement, Dar remained confident that talks with the IMF would succeed and that the ninth review would be completed.
Pakistan's Determination to Repay Debts
Despite the international conspiracy, Dar assured the committee that the repayment of international debt remains the government's top priority. He pledged that no payment would be delayed, reaffirming Pakistan's commitment to honoring its financial obligations and reflecting the government's resolve to protect the country's economic stability and avoid any adverse consequences resulting from defaulting on its debt.
Dar highlighted the government's tax revenue target of Rs. 9.2 trillion for the next fiscal year, along with incentives for freelancers in the IT sector. However, the IMF's opposition to these incentives raised concerns about the government's ability to achieve its goals. Dar emphasized that the budget initiatives aim to generate equitable tax growth and that reducing tax exemptions would hinder this objective.
Also read: The Potential of IT Sector Could Play a Significant Role in Bolstering Pakistan's Economy: Dar