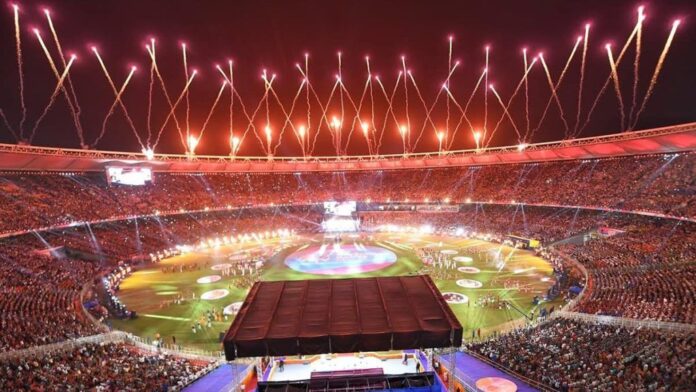 The highly anticipated Pakistan vs India World Cup clash, scheduled for October 14, 2023, at the Narendra Modi Stadium in Ahmedabad, India, is set to receive an electrifying prelude. The Board of Control for Cricket in India (BCCI) has decided to host a spectacular musical ceremony prior to the mega event, creating an unforgettable atmosphere for fans and cricketers alike.
Star-Studded Spectacle
The musical extravaganza promises to be a star-studded affair, with renowned Bollywood celebrities gracing the Narendra Modi Stadium. High-profile figures from the entertainment industry are expected to add glamour and excitement to the event. The Narendra Modi Stadium, renowned as the world's largest cricket ground, will provide a fitting stage for this grand spectacle.
Anil Patel, the secretary of the Gujarat Cricket Association (GCA), revealed that the lucky holders of golden tickets will witness this exceptional event and the subsequent thrilling encounter between Pakistan and India. The BCCI has already distributed premium passes to cricket legends like Sachin Tendulkar, along with iconic figures like Rajinikanth and Amitabh Bachchan. The musical performance at the stadium will include a special appearance by the talented singer Arjit Singh.
Pakistan vs India World Cup Clash: High Anticipation and International Presence
The clash between India and Pakistan in cricket is always a high-pressure, highly anticipated event, and this year's World Cup match is no exception. It is expected to draw numerous VIPs and dignitaries, further elevating the excitement surrounding the game. The Bollywood stars' performance is scheduled to begin at 12:40 PM IST and conclude by 1:10 PM. Young kids will play a role as mascots, escorting the teams onto the ground, adding a unique touch to the spectacle.
Additionally, it has been reported that a delegation of 20-25 Pakistani journalists will be present to cover the match, highlighting the international significance of this cricketing rivalry. The authorities at the Gujarat Cricket Association have been diligent in making the necessary arrangements to ensure the smooth execution of this grand musical ceremony, enhancing the overall experience for fans and players alike.
Also read: Controversy Erupts as Pakistani Presenter Zainab Abbas Leaves India Over Anti-Hindu Posts