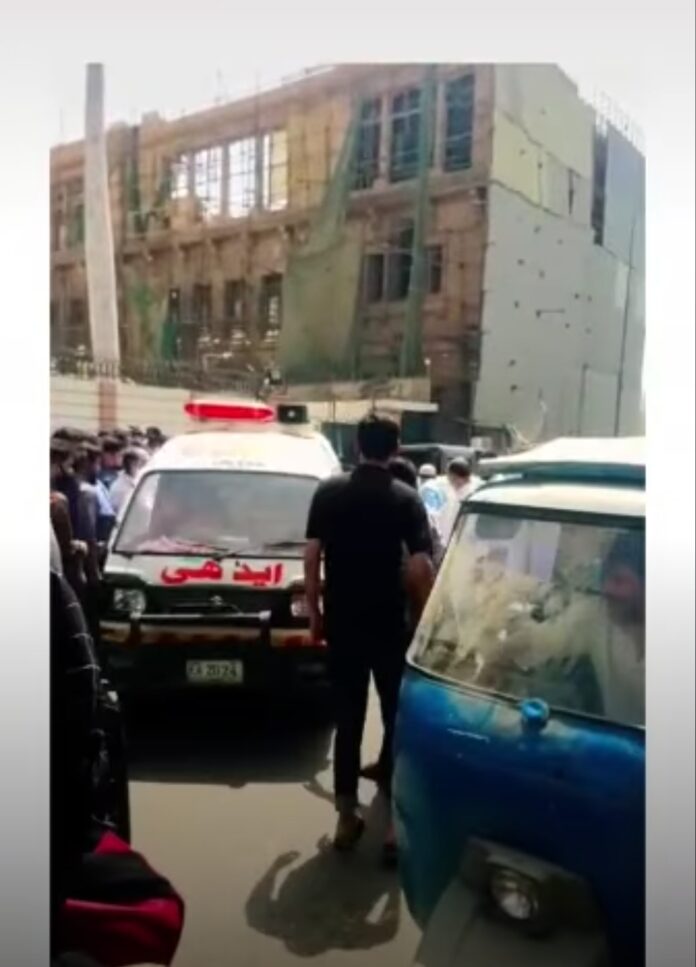 Heavy traffic congestion was seen at SBP's head office, located at I.I Chunrigarh Road's on 15th April due to the bankers protest against extended working days and hours. While, the protest was happening, an ambulance was seen stuck in the traffic amid the bankers protest which was rightfully escorted out by a group of people.
Ambulance escorted out amid the bankers protest
The I.I Chunrigarh road is one of the many busiest roads in Karachi, and it is always jam-packed with traffic people from all walks of life, specially merchants and vendors, take this route to carry their day-to-day activities as the road connects to one of the biggest wholesale market of Karachi. Also, being a busy road it is prone to accidents, so you also witness a fleet of ambulances on the standby.
The bankers who were practicing their right to protest met the same situation where an ambulance was stuck in the traffic – due to the protest – waiting for the road to clear to take the patient to hospital for urgent care. Being a responsible citizen of the country, the bankers present at the location intelligently make way for the ambulance and escorted it out of the dense traffic, which was later appreciated by all cheers and claps.
Bankers first-hand account
An employee of a private bank, Farhan Amjad protested saying that "The government has made an irrational decision. Apart from abolishing the Saturday off, they have revised the bank opening time from 10am to 8am in Ramazan," adding that, "the fact is that there is hardly any client and customer in the first two hours during Ramazan days."
Another bank employee, Abdullah reported saying, "The issue is that in the banking industry nothing can be left for the next day; all activities including cash handling and deposits, withdrawal, transfers, etc., have to be closed before leaving the branch." He emphasized that bankers have to reach early, and they can't even leave the place before 5 in the evening, until the work is all done, leaving little time to rest.
Read more: Bankers Protest Against Extended Hours In front of SBP Head Office