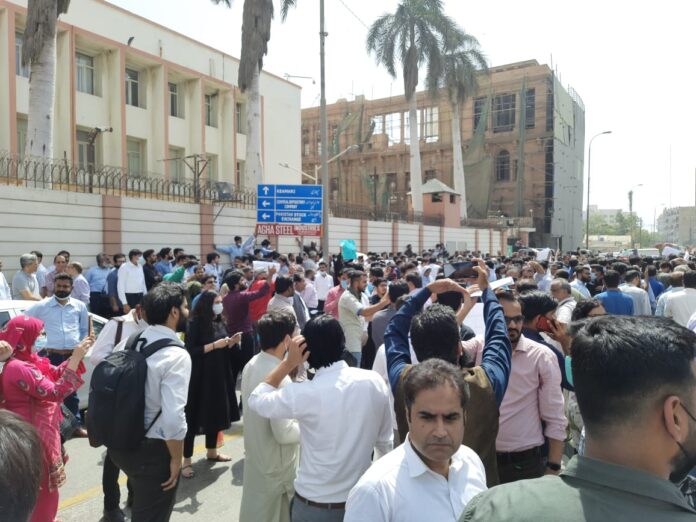 As per the government orders, SBP issued a noticed increasing the working days and hours for all banks. As soon as the news broke, the banking fraternity came out in support of each other and announced to stage a peaceful protest in front of SBP. Today, after Friday prayers, a huge number of bankers protested outside the State Bank of Pakistan demanding a reduction in working days.
Protest Ongoing Infront of SBP against this injust and inhumane decision taken by PM Shahbaz Sharif @ I.I Chundigarh Road Khi. Media Representatives and higher authorities kindly help us in raising voice against this injustice. @ARYSabirShakir @Fahad4014#بینک_ٹائمنگ_نامنظور pic.twitter.com/9Sc75dimKH

— Salman Khan (@k20123018) April 15, 2022
Bankers record their protest in front of SBP
Social media has become a revolutionary medium for most of the people where several people get overnight fame, others come out to speak for the rights and pinpoint the wrongdoings of society. The same happened in this case, when SBP announced the increased working days and hours for all banks it spiked a social war amongst bankers and the state. The banking community took to Twitter to trend the hashtag #بینک_ٹائمنگ_نامنظور which became a top trend within no time.
Protest on II Chundrigar Road.@StateBank_Pak can work on Saturday but why impose the id*otic decision on commercial bank & other financial institutions. We reject this illegal government & their decision.#بینک_ٹائمنگ_نامنظور
#Karachi #SATURDAY #امپورٹڈ_حکومت_نامنظو pic.twitter.com/BB4rq0x4S8

— A. Mahmud (@abbymahmud) April 15, 2022
At around 2 PM, the bankers started gathering around the SBP's head office, located at I.I Chunrigarh Road's, bearing slogans of unacceptable bank timings. The protestors were seen chanting; "Haftay ki chutti bahal karo" which means to restore Saturday's holiday. Other slogans read; "Bankers Lives Matter" and "No to Six Days Working"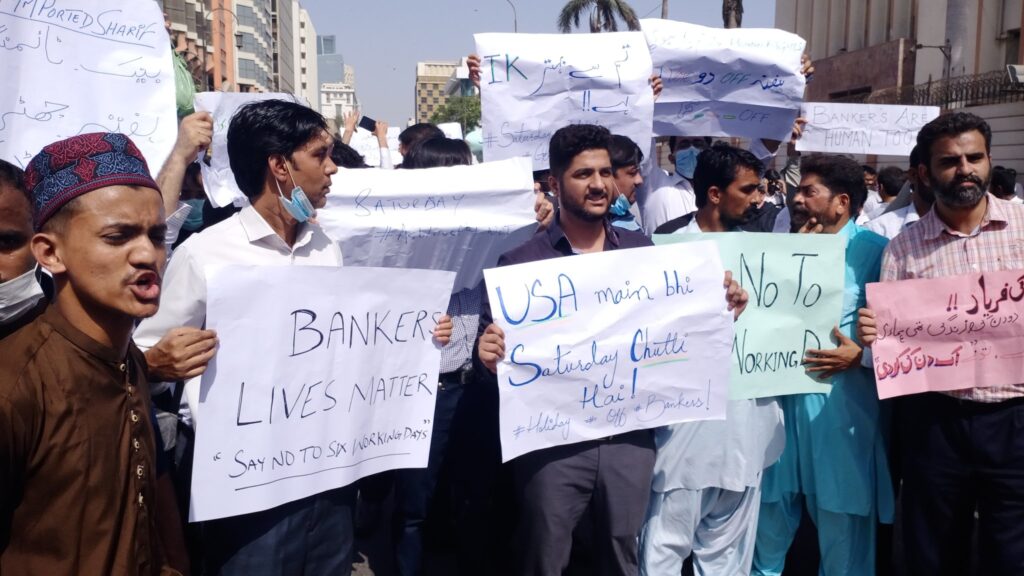 Equal Rights for Bankers
While some protests against the extended working days and hours, others demanded equal rights and salary increment from the federal government. It is pertinent to mention here that SBP has increased the working days and hours of all commercial banks, development finance institutions and microfinance banks.
#امپورٹڈ_حکومٹ_نامنظور#بینک_ٹائمنگ_نامنظور
Black Day for Bankers
6-days working aur Ramazan mien suba 8 Baje!
Ye Banks pe apply hota hai baki jo benefits diye jate hain Federal Govt employees ko wo bankers ko dena kub shoro hoga.Sirf timing nahi bankers ki salary be change karo

— Abdul Karim (@AbdulKa14119827) April 13, 2022
Read more: Bankers to Hold Protest over Six Working Days and Extended Working Hours by SBP