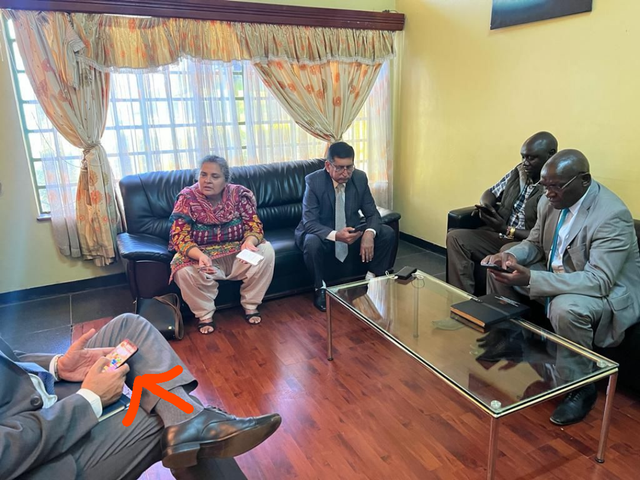 In the wee hours of Tuesday, Pakistanis woke up to the devastating death news of one of the very well-known and renowned journalists of Pakistan, Arshad Shareef who was allegedly murdered in the cold blood. In this regard, Kenyan authorities along with the Pakistani High Commission are investigating the matter and it was during one of the briefings that a Pakistani diplomat was reportedly seen playing Candy Crush Saga instead of demanding a transparent investigation.
Netizens Reacted to the Photo of Pakistani Diplomat Playing Candy Crush Saga
While the nation was mourning a huge loss, a non-serious photo of a Pakistani diplomat playing Candy Crush Saga popped up on the internet igniting a fit of rage amongst Pakistani users, who termed it as a horrendous act being displayed on an international platform while back home the nation cries for the loss of a very talented and qualified journalist.
Ye banda bhi @CandyCrushSoda khel raha hai A mere Huda

— Syed Talha Shah (@syedtalha_a) October 24, 2022
Khurram Iqbal, a journalist from a local news agency, tweeted a photo showing officials from Pakistan Embassy sitting with Kenyan authorities discussing the alleged murder. A Twitter user was quick to spot one of the officials playing Candy Crush during an all-important discussion. A user even questioned their authenticity, saying; 'Are they responsible enough to work for Pakistan abroad'
And the person on the left is play game on mobile, are they responsible enough to work for Pakistan in abroad? pic.twitter.com/vcank15JjM

— Aisha (@Aisha_ch_PTI) October 24, 2022
Kenyan People Narrate a Different Story
While the Kenyan police force has ruled out the possibility of foul play labeling it as a case of 'Mistaken Identity' the Kenyan People are narrating a different story saying that Kenya is the most corrupt country where policemen can be hired as hitmen for a few dollars. Recently, three police officers in Kenya have been found guilty of murdering three men, including human rights lawyer Willie Kimani. The decision came six years after the bodies of the victims were found in a nearby river..
Also read: FIR Registered Against K-Electric Over Aamir Liaquat's Death