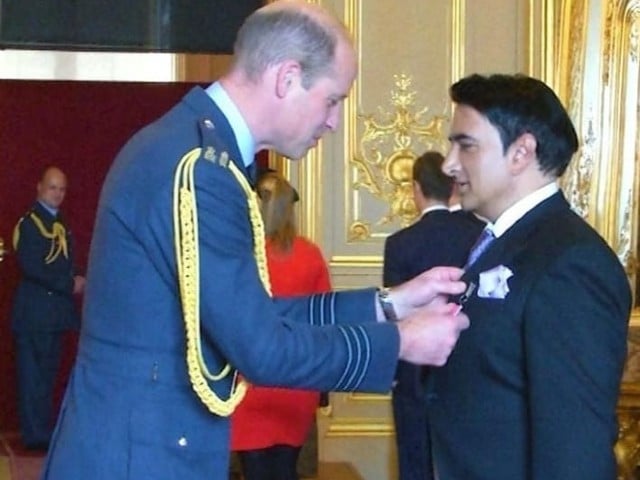 Arif Anis, a distinguished Pakistani author and philanthropist, was bestowed with royal honours by Britain's Prince of Wales, Prince William, in a prestigious ceremony at Windsor Castle, United Kingdom. This recognition marks Anis as one of the first Pakistani-origin authors to receive the coveted Member of the Most Excellent Order of the British Empire (MBE) medal for his outstanding humanitarian contributions. "I dedicate my honours to Pakistan and the spirit of being a Pakistani. We could be down but not out. We are in the 148 countries of the world and making our presence felt. The current crisis of confidence, leadership, economy and governance will not last but our spirits shall last," said Anis.
Arif Anis Acknowledged for Humanitarian Services
Arif Anis's accolade, announced in June through King Charles' Official Birthday Honours List, highlights his notable achievements as a celebrated author and leadership expert. The MBE medal, awarded for his remarkable humanitarian services, recognizes Anis as a trailblazer in the realm of philanthropy. His contributions extend beyond literature, showcasing his commitment to addressing pressing global challenges.
"Prince was intrigued how we prepared the meals and jokingly asked me whether I am a good cook. I mentioned I was spoiled by my mother and did not know much about cooking, mentioning my wife and friends who cooked and donated during those turbulent times, while I led the operations and strategy of the campaign. Prince of Wales also refreshed his memories of Pakistan when he visited Pakistan in 2019 along with Duchess of Cambridge Princess Kate. I invited the Prince of Wales to Akhuwat University of Kasur and he expressed his interest of visiting this inspirational humanitarian project in the future," Anis stated.
One Million Meals Campaign: A Testament to Resilience
In the throes of the 2020 coronavirus pandemic, Arif Anis initiated the "One Million Meals" campaign, collaborating with friends Suleman Raza and Bilal Saqib. The campaign garnered support from celebrities like David Beckham, Amir Khan, and The Proclaimers. It provided hundreds of thousands of meals to vulnerable communities and key workers, earning acclaim, including the Points of Light Award from Boris Johnson.
Arif Anis, a best-selling author known for his leadership, purpose, and excellence expertise, dedicates his royal honors to his mother, his wife, and the indomitable spirit of being a Pakistani. In the face of challenges, he emphasizes the resilience of Pakistanis and their enduring presence on the global stage. Anis sees the current crises in confidence, leadership, economy, and governance as transient, expressing unwavering optimism in the spirit of his homeland: "We could be down but not out. From cricket to leadership, we will be back. Pakistan Zindabad."
Also read: British Car Thieves Hack Car Security Using a Supposed Toy