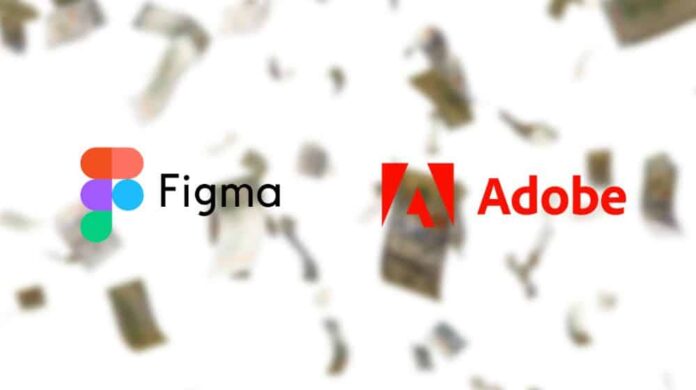 Adobe has announced the acquisition of San Francisco-based Figma for $20 billion, wiping out its biggest digital competitor. The deal is one of the most significant software mergers since Salesforce acquired Slack for $28 billion last year. The transaction, which is the company's largest acquisition, is expected to close in 2023, pending regulatory approvals.
Adobe Acquires Figma in a Half Cash and Half Stock Deal
Adobe mentioned that the deal would settle in half cash and half stock, including 6 million additional restricted stock units granted to Figma's CEO and employees that will vest over four years after closing. Adobe CFO Dan Durn said, "The $20 billion would be paid in cash and stock and, if necessary, a term loan, to be paid down from our operating cash flows following the closing."
Shantanu Narayen, chairman and CEO of Adobe said, "Adobe's greatness has been rooted in our ability to create new categories and deliver cutting-edge technologies through organic innovation and inorganic acquisitions. The combination of Adobe and Figma is transformational and will accelerate our vision for collaborative creativity."
Dylan Field, co-founder and CEO of Figma said; "With Adobe's amazing innovation and expertise, especially in 3D, video, vector, imaging, and fonts, we can further reimagine end-to-end product design in the browser while building new tools and spaces to empower customers to design products faster and more easily."
Adobe Shares Dropped about 17% After the Deal Announcement
Adobe stock plummeted 17% on Thursday and was down another 4.8% on Friday after the company said it was acquiring San Francisco-based software design platform Figma. According to Dow Jones Market Data, Adobe's stock has fallen about 25% this week and was on pace for its worst week since August 2002. The company has increasing negative sentiments around the stock as it receives two downgrades from analysts earlier in the week.
Also read: Adobe Launches a New Graphic Designing App Called; Creative Cloud Express