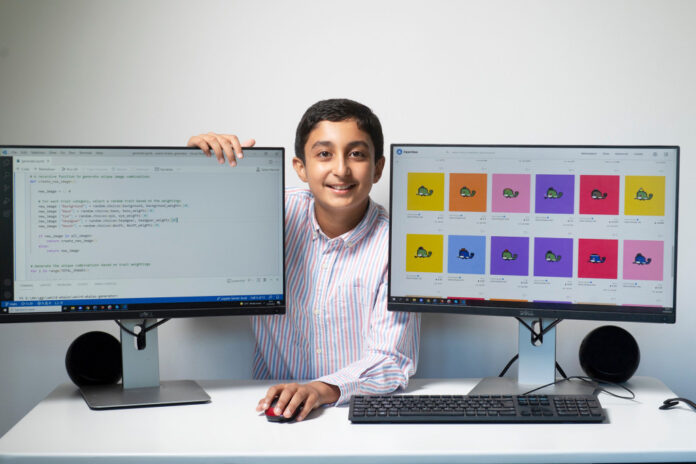 A 12-year-old London-based coder, Benyamin Ahmed, is set to earn $400k in just two months from creating and selling NFTs. The coder's Weird Whale NFTs are surging in popularity, with the cheapest one under $2,000 worth of ethereum.
Benyamin Ahmed makes £290,000 by selling 'Weird Whales' NFTs
The young entrepreneur started learning to code at 5 years old after being inspired by his dad Imran, a web developer. Earlier this year, Benyamin became interested in NFTs, following his interest, the young coder created a collection of pixelated artwork that includes, 3,350 Weird Whales in the style of a common whale meme on a pixel art website.
Ahmed launched his first NFT collection earlier this year consisting of 40 avatars called Minecraft Yee Haa, that collection didn't garner enough attention. In June, Ahmed started work on another NFT, featuring 3,350 pixelated whales with attributes like different colors and hats. He launched the collection in July that went viral, the young genius made more than 80  Ether coins and the collection was reportedly sold out in nine hours.
Read more: Viral meme 'Friendship Ended with Mudasir' auctioned for $53,000 for NFT listings
Ahmed doesn't own a bank account
Ahmed told the press that he only has a cryptocurrency wallet, not a traditional bank account; "I plan to keep all my ether and not convert it to fiat money. It might be early proof that, in the future, maybe everyone doesn't need a bank account and just has an ether address and a wallet."
The young coder earns money by reselling his NFTs, where he gets a 2.5 royalty percent on each secondary sale. He has earned more than $350,000 – and additional 30 Ether coins – from just the resales, and is expected to rake in over $400,000 from the project. Ahmed told CNBC that he learned to create the collection from online tutorials and through the guidance of mentors he met on Discord communities.