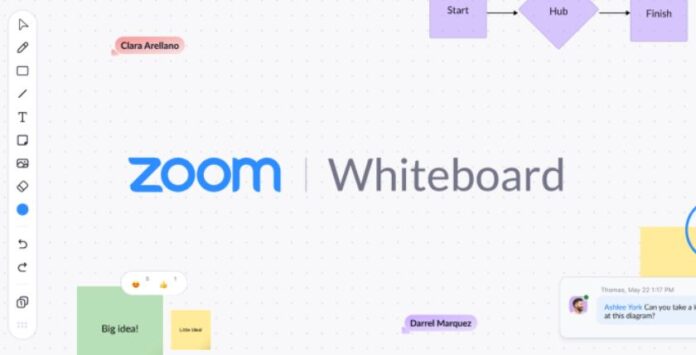 In the recent news, Zoom has announced a series of updates and new features, comprising a virtual whiteboard and Hand Gesture Recognition. Among the updates is Zoom IQ for Sales, which employs AI to analyze calls. Zoom added Hand Gesture Recognition, which suggests that instead of clicking on a reaction user can raise a hand or put a thumbs up to display that reaction in the call. 
Zoom's Hand Gesture Recognition Feature Supports Raise Hand and Thumbs Up Reactions
Zoom has further introduced Zoom Whiteboard, which is built into Zoom's desktop app, Zoom Meetings, and Zoom Rooms. Zoom intends to add support for Zoom Chat soon. It also lets you use sticky notes and add pictures and save the whiteboard after the meeting. Zoom's new Hand Gesture Recognition and Whiteboard feature currently supports Raise Hand and Thumbs Up reactions and requires client version 5.10.3 or higher, and can be enabled at the account, group, or user level.
Zoom has also enhanced audio quality and cut down on audio pauses in audio-conferencing for users in the Asia-Pacific region. Zoom will initiate Call-Me outcalls from data centers in Asia-Pacific, which have been recently updated. Meeting invites will now comprise new DID and Tollfree numbers when you select Asia.
In addition to Hand Gesture Recognition and Whiteboard, Zoom is planning to include the ability to turn chat notifications on and off and form a central library of polls. Hosts in the primary Zoom session can now see Breakout Room activity, including screen sharing and audio and video status, and Zoom will inform users about this when they enter Breakout Rooms. Cloud recordings can now record as many as nine highlighted users in a meeting or webinar.
Zoom is Expanding Expo Floor for Virtual Zoom Events
Zoom revealed that they're expanding the Expo floor for Zoom Events, now letting 1,500 simultaneous participants. They're also increasing the limit on booths to 300, including 100 sponsored and 200 non-sponsored, with up to 20 ambassadors per sponsor and 20 representatives per booth.
Read more: Zoom Users Can Now Join Meetings as Animals Using the New Virtual Avatars