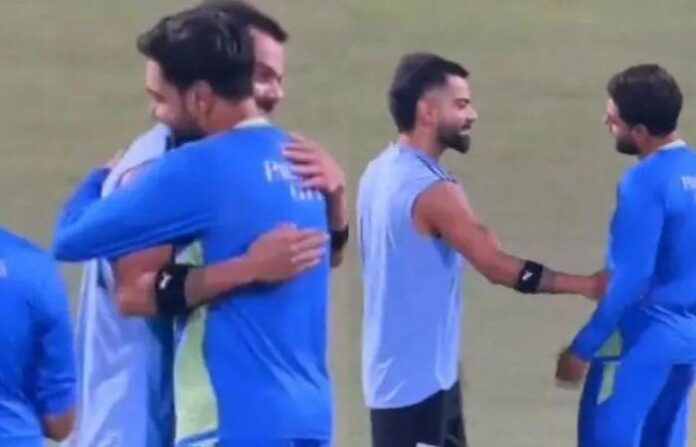 As cricket enthusiasts eagerly await the Asia Cup 2023 clash between India and Pakistan, a heartwarming moment involving Virat Kohli and Pakistan's pace sensation, Haris Rauf, has taken the internet by storm. Before the much-anticipated match in Kandy, Sri Lanka, the video of their encounter went viral, showcasing the sportsmanship between players from both sides.
A Glimpse of Camaraderie Between Virat Kohli and Haris Rauf 
Amidst the intense rivalry that surrounds India-Pakistan cricket clashes, these moments of mutual respect and camaraderie often go unnoticed. In the viral video, Virat Kohli approaches Haris Rauf with a warm smile, shakes his hand, and shares a friendly hug. This heartwarming exchange serves as a reminder that beyond the fierce competition on the field, there exists a bond between players that transcends borders.
Moment of the day.

Virat Kohli meets Haris Rauf ahead of the Asia Cup. [Star Sports] pic.twitter.com/WDnZVIo1kp

— Johns. (@CricCrazyJohns) September 1, 2023
A Flashback to Epic Encounters
The encounter gains added importance as it involves Haris Rauf, the same bowler whom Virat Kohli faced during the T20 World Cup 2022, delivering an outstanding performance. Kohli's unbeaten 83 in that match, which included two memorable sixes, is etched in cricketing history as one of his finest innings. This interaction between Kohli and Rauf adds depth to their on-field rivalry, reflecting the mutual admiration players have for each other's skills.
With the stage set for the Asia Cup 2023 clash, Pakistan enters the tournament with confidence following a dominant victory over Nepal by 238 runs in the opener. However, the Indian team, led by Rohit Sharma, is prepared for the challenge, armed with valuable lessons from past encounters and bolstered by the return of Jasprit Bumrah. The team's overall fitness, exemplified by impressive yo-yo test scores, and the enthusiasm of younger players provide Team India with renewed energy and optimism.
Also read: Catch the Live Action of Pakistan vs India Asia Cup 2023 | Where to Watch | Live Streaming l All Details Inside