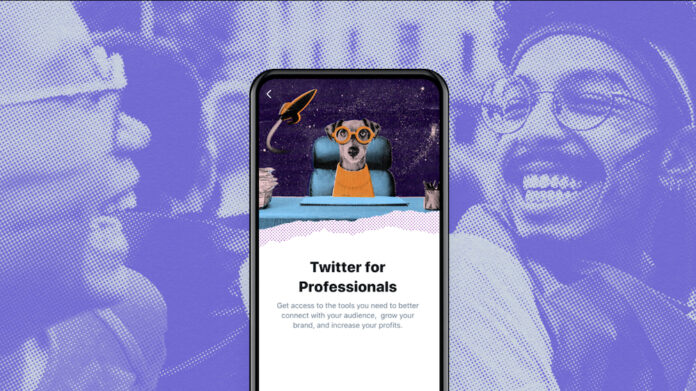 Earlier this year, Twitter started testing 'Twitter for Professionals' in the US. It is now ready for a global push by opening the option up to all businesses, which will provide a new way for brands to present themselves on the platform, with dedicated tools and features aligned specifically with work use. As explained by Twitter; "Professional Profiles are a new tool that will allow businesses, non-profits, publishers, and creators — anyone who uses Twitter for work — to display specific information about their business directly on their profile."
Twitter for Professionals will evolve the e-commerce industry
Twitter is following the lead of its competitors such as; Facebook and TikTok, which had already introduced different profile types for businesses. Whereas, Twitter only had monetisation options for popular tweeters. Earlier this month, Twitter invited more businesses to sign-up for the beta program to test the professional profiles feature. The company working to evolve its eCommerce tools to provide more ways for brands to sell their products.
Soon, businesses and creators will be able to opt for professional accounts. The account will provide additional tools for the businesses to distinguish their profile, promote content through ads and capitalize on Twitter's future e-commerce efforts. Twitter's Shop Module will offer brands, businesses and other retailers the ability to showcase their products directly on Twitter's business' profile. Users will then be able to scroll through a carousel of products and tap through on a product they're interested in purchasing. This opens up the business's website inside the Twitter app itself, where the customer can learn more about the product and can easily make a purchase.
Read more: Twitter Soon to Launch the Tips Feature to Enable Bitcoin Tipping
How to switch the profiles?
Twitter wrote in its FAQ that you can only convert an existing Twitter account to a professional account and it can be done by using the 'Twitter for Professionals' option available at the sidebar on the home screen. To qualify for a professional account, users must have no history of violating guidelines, and they must carry an authentic account name with bio and profile picture.
The new Professional profiles include more information, including address and contact info, within the main profile frame, and an updated layout. The company earlier this year mentioned its plans to expand into e-commerce, it says to work directly with businesses to better understand their needs through the creation of a new Merchant Advisory Board.