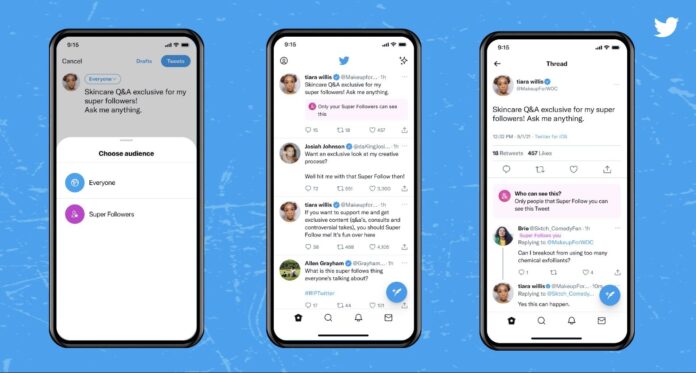 Twitter rolls out the Super Follows feature for global iOS users, previously, the feature was only available for US and Canada. Super Follows feature allows users to monetize their Twitter account and create exclusive content through monthly subscriptions – that could be bonus tweets, access to a community group, subscription to a newsletter, or a badge indicating your support.
Read more: Twitter Users Can Finally Host Their Own Spaces on Both Android and iOS
Requirements to avail Super Follows feature
Twitter sees the Super Follows feature as a way to let creators and publishers get paid directly by their fans. According to the Super Follows policy, users have to meet a minimum set of requirements to activate the Super Follows feature, which is currently application-based. The requirements are as follows;
Users have to be 18 or older, have at least 10,000 followers, and 25 tweets in the past 30 days.
Once the request for Super Follows is accepted, the user has to tweet a minimum of 25 tweets every 30 days.
Users are eligible to earn up to 97 percent of revenue from their Super Follows subscription after in-app purchase fees, with Twitter taking 3 percent.
If a user earns $50,000, they can earn up to 80 percent of revenue after in-app purchase fees, and Twitter will increase its share up to 20 percent of future earnings.
In recent months, direct payments tools have become significantly important with Patreon leading the race, followed by Facebook, YouTube, and GitHub. Twitter has also launched Ticketed Spaces for its live audio rooms feature to let creators charge anywhere from one dollar to $999 for advanced ticketing.
Twitter announced communities
Recently, the micro-blogging site also announced a new feature – Communities – more like Facebook groups. People can create and join communities as per their interests, enabling them to grasp more information focused on particular topics which they want to see or hear. Facebook groups are a huge success and it might be particularly helpful for Twitter as well.
Source: Tech Crunch