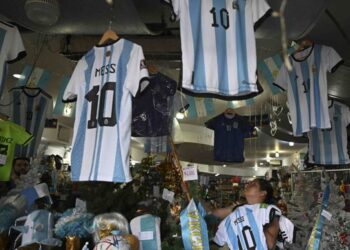 The jersey bearing the No. 10 and the name of Argentina's national team captain – Lionel Messi – is no longer available at Adidas outlets. Popular sports media personality Manu Heredia revealed that Adidas has run out of stock of Messi's jerseys, but there's good news a special edition will be coming soon. He said, "Adidas confirmed that the stocks of Messi's Argentine shirt had been exhausted throughout the planet. The positive news is that there will be a special edition in the event of an Albiceleste victory in the final."
Adidas Working Round the Clock to Replenish Messi's Jerseys Stock
The German-based brand is working tirelessly to make Messi's jerseys available in different parts of the world so people can buy it as a souvenir for FIFA World Cup 2022. As per sources, Adidas is working on celebratory shorts, and something more personalized in the figure of Messi after Argentina wins the world cup.
Espectacular: Adidas confirmó que se han agotado las existencias de la camiseta argentina de Messi en todo el planeta. La noticia positiva es que habrá edición especial en caso de triunfo albiceleste en la final pic.twitter.com/AFKKPlvEUF

— Manu Heredia (@ManuHeredia21) December 16, 2022
Miguel Ángel Lara of MARCA said, "The World Cup in Qatar and Argentina's march to the final has boosted sales of a jersey that was already one of the most sought after and appreciated worldwide. Argentina has long been the jewel in Adidas' crown when it comes to quantifying its business." Lara further added that no other national team wears the German brand with the same worldwide impact.
Counterfeit Products Going on Sale
Counterfeit products take over the market as the original product goes out of stock. The same happened in this case; the shortage of Messi jerseys has also provoked the production and sale of dupes. After being bombarded by the complaints, the Argentine Football Federation issued a statement saying, "We can't do anything about it, although it's in our interest to sell more. It is a matter of Adidas and there are problems in the country that affect them, such as the obstacles to imports and the lack of manpower, as well as the high level of public anger."
Also read: Underpaid Pakistani Workers are Making Footballs that Sell Way Above their Daily Wage