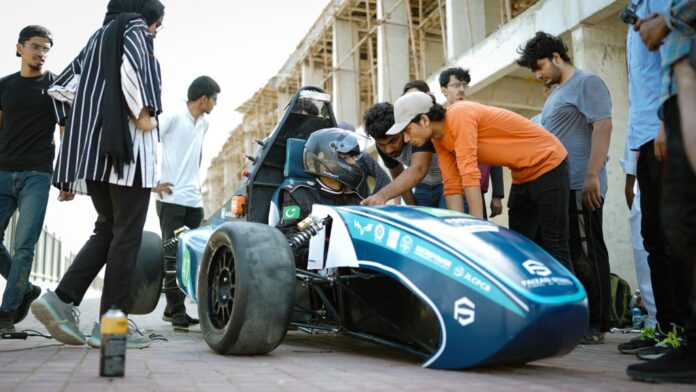 Formula Electric Racing NUST (FERN), a program by Pakistan Navy Engineering College (PNEC-NUST) that involves students in making NUST's racing Electric Vehicle, has achieved a milestone as they were able to secure the world's biggest EV manufacturing company, Tesla, as its innovative partner. Tesla awards sponsorship to Formula Student teams worldwide, and FERN is the first and only team from Pakistan to have achieved this milestone. Tesla-NUST partnership was achieved as the FERN team reached out to Tesla, and, looking at the impressive potential, the automotive giant agreed to become a partner.
Tesla-NUST Partnership: Tesla to Provide Technical Support to FERN
In the Tesla-NUST partnership, Tesla will provide technical support to FERN, including technology sharing and essential components for electric vehicle (EV) development, to help FERN upscale its products. Moreover, Tesla will also grant a discount of 5000 euros on enepaq tinybms, ADI & TI, bms chips, and dev boards to FERN.
With the Tesla-NUST partnership, NUST has become the first ever institute to secure a partnership of such a level with a multi-billion dollar EV manufacturer. A spokesperson of FERN said, "Words cannot express the sense of elation and gratitude that we have for scoring an affiliation with a name such as Tesla."
FERN's Rival Teams
The rival teams of FERN have secured sponsorships from automotive giants such as Mercedes-AMG, Volkswagen, Porsche, and other significant players. FERN's current project vehicle has a 22 km range and a 5 kWh battery. It accelerates faster than most cars on Pakistani roads, reaching a top speed of 120 kph and 100 kph from a complete stop in about 4.5 seconds. FERN also have a track record of bagging a podium finish in every competition they enter, hence making them one of the strongest contender.
Also read: Pakistani Student's Formula E-Car Wins Second Place in a Russian Competition