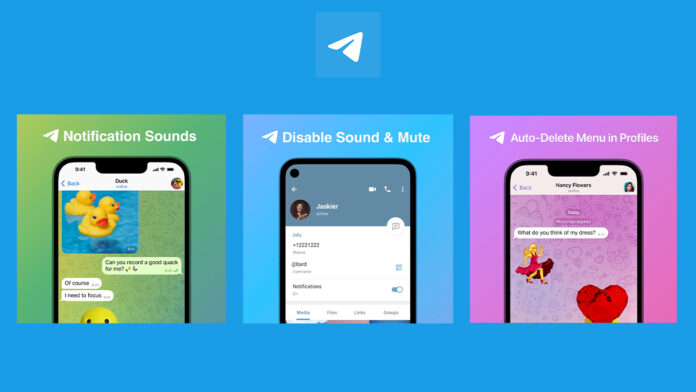 The new update of the telegram brings exciting new features to the app. The exciting new features include; custom notification sounds, an auto-delete chat option, improved picture-in-picture settings, and an enhanced Bot configuration.
Telegram's exciting new features bring more control over notifications and mute duration
Custom notification sounds: Telegram enable users to set their custom notification sounds, or they can also set their sounds by using short audio files uploaded from your phone for a duration of up to five seconds and a size of up to 300 KB.
Custom Mute Duration: Previously, users can only take breaks from 8 hours to 2 days, but with the new update the users can set their time limit. To use this, simply click on Notifications and then press Mute.
Auto-delete chats: To save your time and space, Telegram has introduced this function in which users can set an auto-delete timer for particular chats. Therefore, when the time comes, all the content in that chat gets deleted without you having to worry about it. The timer options include an hour, a day, a week, a month, and more.
Enhanced Bot Configuration: Telegram has partnered with Java Script to help developers create better interfaces for Telegram bots. The bots can be programmed to match a particular theme with the user profile.
Miscellaneous features
Apart from the updates detailed above, Telegram has also launched some other features that include; PiP setting where users can text their family and friends while watching their favourite show, and multiple language support that translates the message from several languages. Moreover, an additional food emojis is launched to gel in your foodie friends and lastly, users will now be able to hide the sender's name or media captions while forwarding messages to other chats, to forward a message anonymously.
Read more: Telegram Announces Several New Features With Improved UI and Controls