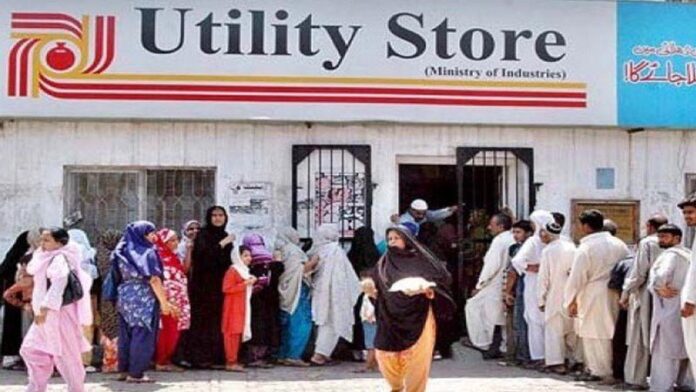 The servers of utility stores went down across the country owing to a technical glitch. Due to the disruption in the utility stores servers, people were left queued up outside the buildings. The officials informed that it was impossible to supply the items due to technical difficulties.
Disruption in the Utility Stores Servers Affected the Purchasing of Daily Items 
As per details, the disruption in the utility store servers took down the whole system at the affected stores, and the citizens were unable to make purchases, specifically flour. Utility Stores Corporation officials said that the servers went down due to the subsidy being divided into two parts.
A bag of 10 kg flour is available for ordinary citizens at utility stores for Rs. 684, whereas cheap flour is available for only Rs. 400 to Benazir Income Support Program cardholders. The BISP beneficiaries under PMT-32 would be allowed to purchase a maximum of 40kg of wheat flour, 5kg of sugar and 5kg of ghee per month to avoid the misuse of subsidies.
Government Hikes Daily Commodities Price by 62% in Utility Stores
The government has hiked the prices of wheat flour, sugar and ghee by 25 to 62 percent for sale through the Utility Stores Corporation. As per new rates, the price of sugar has been raised from Rs70 per kg to Rs89, an increase of 27 percent. Likewise, the price of ghee has been jacked up by Rs75 per kg to Rs375, while wheat flour price has been increased by 62 percent to Rs64.8 per kg from Rs40 at present. The USC said that populations registered in the BISP's scorecard and below PMT-32 would remain eligible for a targeted subsidy.
Also read: PM Shehbaz Abolishes One-Time Password System for Purchases at Utility Stores