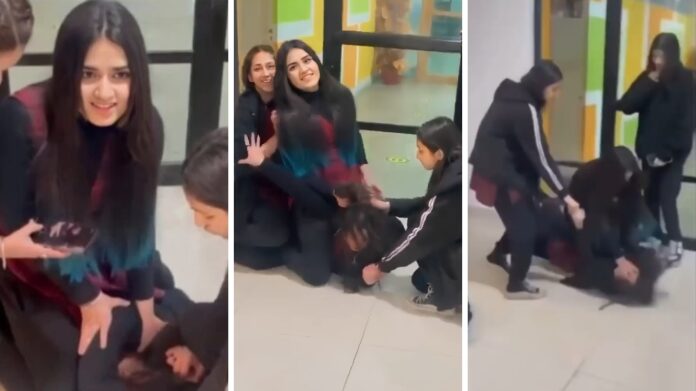 A viral video from Scarsdale School has sent the internet in shock, showing a group of female students torturing another female classmate for not drinking alcohol. The video clip from the Scarsdale International School in Lahore has sparked a national outage as people are demanding justice for the young girl who was brutally beaten up by her classmates.
Scarsdale International School: The Unfolding of Events
The video shows three teenage girls holding their classmate by the hair and pinning her to the ground, and forcing her to drink alcohol. While the video was recorded by the male friends, the alleged culprits, Jannat Malik, Umaima Malik, and Noor Rehman ganged up on the girl and verbally abused the alleged victim and told her to say sorry.
This isn't the first video I am watching. I am hearing these stories every day from the students. So many of them are drugs addicted. Local administration, staff, and in some institutions even seniors are involved selling drugs in unis & colleges.
pic.twitter.com/qpQdqoCCi5

— Ihtisham Ul Haq (@iihtishamm) January 21, 2023
While an FIR has been lodged against the abusers, the culprits have already got the pre-arrest bail which has made people question the authenticity of the law which only favors the rich. People belonging to different walks of life have highly condemned the incident and demanded strict actions against bullying in schools. Taking to Twitter, Pakistan Tehreek-e-Insaf (PTI) member Maheen Faisal, said, "This is unacceptable, I hope some serious action was taken against the girls."
School Breaks Silence on the Matter
The Scarsdale International School has finally spoken on the matter by condemning the incident and speaking highly of the school's culture and priorities. According to the institute, "Scarsdale International School strongly condemns the incident that recently took place. Our school culture is our highest priority and we uphold our core values of honor, respect, compassion and responsibility." Meanwhile, the school is being trashed on social media for not taking strict action against the girls.
Also read: Viral Video: KFC Staff Beats a Customer Who Misbehaved With Them for a Delayed Order