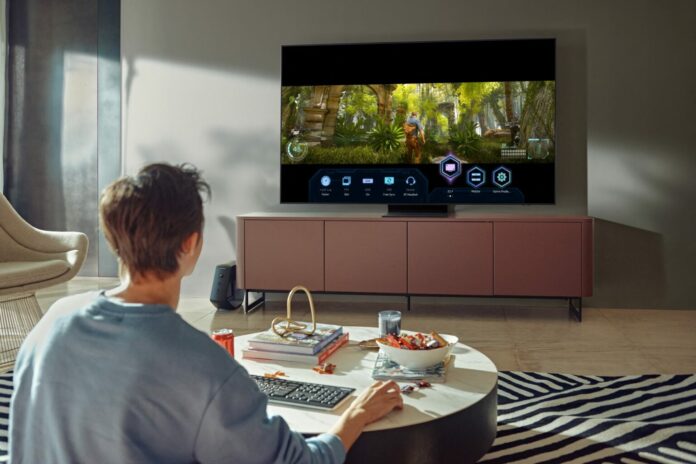 The latest tech major to join the NFT bandwagon is Samsung, as the company has announced a new platform, which it claims to be the world's first TV screen-based NFT explorer and marketplace aggregator. The new TV platform will assist solve the issue of fragmented viewing and purchasing in the NFT ecosystem.
A New Tech Development for NFT Enthusiasts 
Samsung's new TV screen-based NFT explorer will enable NFT purchasers to preview an NFT and learn about it in detail, right on their Samsung TV. For this, the platform will fetch NFTs from several NFT marketplaces such as OpenSea, and display them on Samsung smart TVs.
Read more: Samsung to Launch its Next Powerful Smartphone Chip on January 11
Once live, the platform will be a unique way of previewing or exploring a new NFT, a method that has been missing from the NFT space till now. Until now, NFT fanatics had to depend on their phones or laptops to visit NFT marketplaces and check out new NFTs up for sale. Samsung recognizes this gap in the industry and aims to change it with its latest platform, bringing an end to the "fragmented viewing and purchasing" as mentioned above.
The Latest Samsung TV Screen-Based NFT Explorer is a Groundbreaking Platform
The company is describing the new TV screen-based NFT explorer as a "groundbreaking platform," Samsung promises that its users will be able to "browse, purchase, and display" their favorite NFT on their Samsung TV. Furthermore, the latest initiative will further allow users to check out the Blockchain metadata of an NFT, other than the prospects of previewing and buying it on a Samsung TV.
The latest Samsung platform will extend to all of Samsung's premium line of televisions, including MicroLed, Neo QLED, and The Frame TV models. Moreover, the latest platform is not just reserved for sourcing the data on NFTs and showing it on the big screen, but also it is meant to optimize it for large-screen TVs in Samsung's portfolio.
Source: The Verge