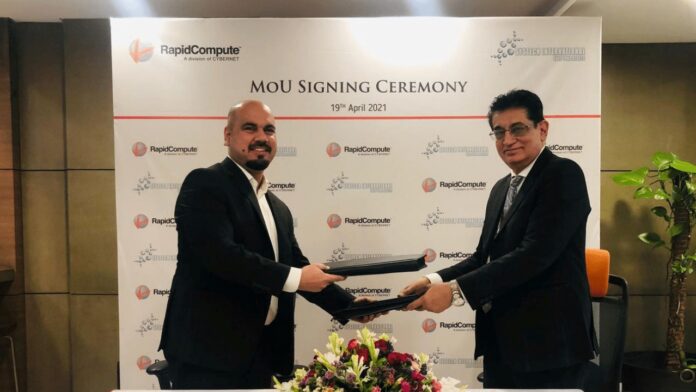 Last week, SysTech and RapidCompute signed an MoU to provide organizations with SysTech's Asset Management Solutions hosted on RapidCompute cloud.
This partnership would allow SysTech and RapidCompute to work as a team to build convenient digital experiences for the customers. The collaboration will help both companies increase customer value and provide smart solutions that are user-friendly.
Shams Ladak, Director Asset Management of SysTech, stated, "We are very excited to have partnered with RapidCompute to provide customers with the synergy of the leading asset management solutions on the leading cloud platform in Pakistan."
"Obviously, having a local cloud service eliminates many regulatory and service delivery related challenges. That's what makes this partnership indispensable. This is not day-zero for us as we have been working very closely for quite a while now with the RapidCompute team. This is just the beginning with many more exciting things to come," he added.
Shahzaib Khan, Regional Business Head of RapidCompute, commented, "If we look at businesses today, especially the IT sector, it is very essential for us to join hands with industry experts that could make the business thrive by incorporating value-added services. The driving force of this collaboration is to make the experience of our customers meaningful and is expected to increase the efficiency of our processes."
"Moreover, SysTech is a leading expert in delivering Enterprise Solutions which could help us create more customer value and ensure that quality is maintained. SysTech and RapidCompute are expected to grow and learn from each other's expertise by providing these solutions. Considering the fact that RapidCompute has secured a decent space in the IT industry it is important to take steps that help our company to grow as a brand providing the best digital solutions that are safe, reliable, and scalable," he added.
SysTech International is a US-based leading software and management consulting company that caters to organizations of different industries. It provides solutions that enhance client performance.
The company was formed in 1995 and has been offering IT solutions that are cost-effective and high quality, be it locally or internationally for over 25 years. Asset management solutions by SysTech help businesses analyze their assets along with work data and enhances maintenance and services across the enterprise.
RapidCompute is a division of Cybernet and a member of the Lakson Group. It has been Pakistan's trailblazer in offering cloud computing, networking services, and management tools for digitizing all areas of businesses and industry. It continues to be one of the largest providers of cloud services to the government, financial sector, and large-scale enterprises.
The company also provides organizations with data and network security that meets global standards by being the only local CSP to be PCIDSS3.2.1 and ISO 27001:2013 Certified, as well as being GDPR Compliant.
Read more: SBP and CGA sign MoU for digitizing government payments using Raast