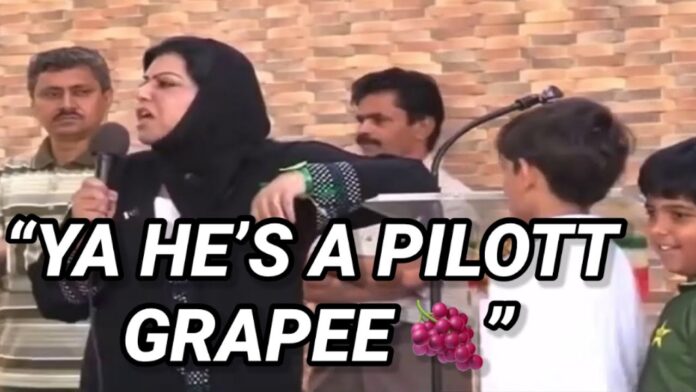 The popular 'Wow Grape Meme' that took the internet by storm is set to be auctioned as an NFT to generate funds for Pakistan Floods. The 'Wow Grape Meme' will be auctioned on 30th September 2022 on the digital art marketplace called Foundation in collaboration with the Sweden/Pakistan-based software house, Maqssoft.
Wow Grape Meme – The Viral Sensation
The Wow Grape Meme emerged from a Pakistani school in Saudi Arabia after they staged a patriotic ceremony with students. Ms. Sehar Kamran, a Pakistani politician and former senator who was also the school's administrator at the time, was seen cheering the students on their future ambitions, when she said the catchphrase 'Wow, great' that was perceived as 'Wow Grape' by social media users due to her passionate voice. The 'Wow Grape Meme' enjoys a global following that was first started as a TikTok trend, having more than 63 million combined views on the popular video-sharing platform.
Ms. Sehar Kamran Approved the Sale
Ms. Sehar Kamran – the face of the meme – said the following while approving the sake of the NFT; "Everything that I said or expressed during the ceremony was genuine and came about as a result of natural processes. As you are aware, a person's feelings tend to grow more intense when they talk about their homeland. We were honoring Pakistan while we were in a country other than Pakistan, which made it much more emotional for me and for the kids who were there." She added; "I encourage young people to broaden their horizons and try new things, particularly in the field of technology, because in today's society, everything is feasible. It is imperative that we make investments in order to realize the potential of digital assets."
Also read: The Disappointed Cricket Fan Turns his Viral Meme into NFT Business