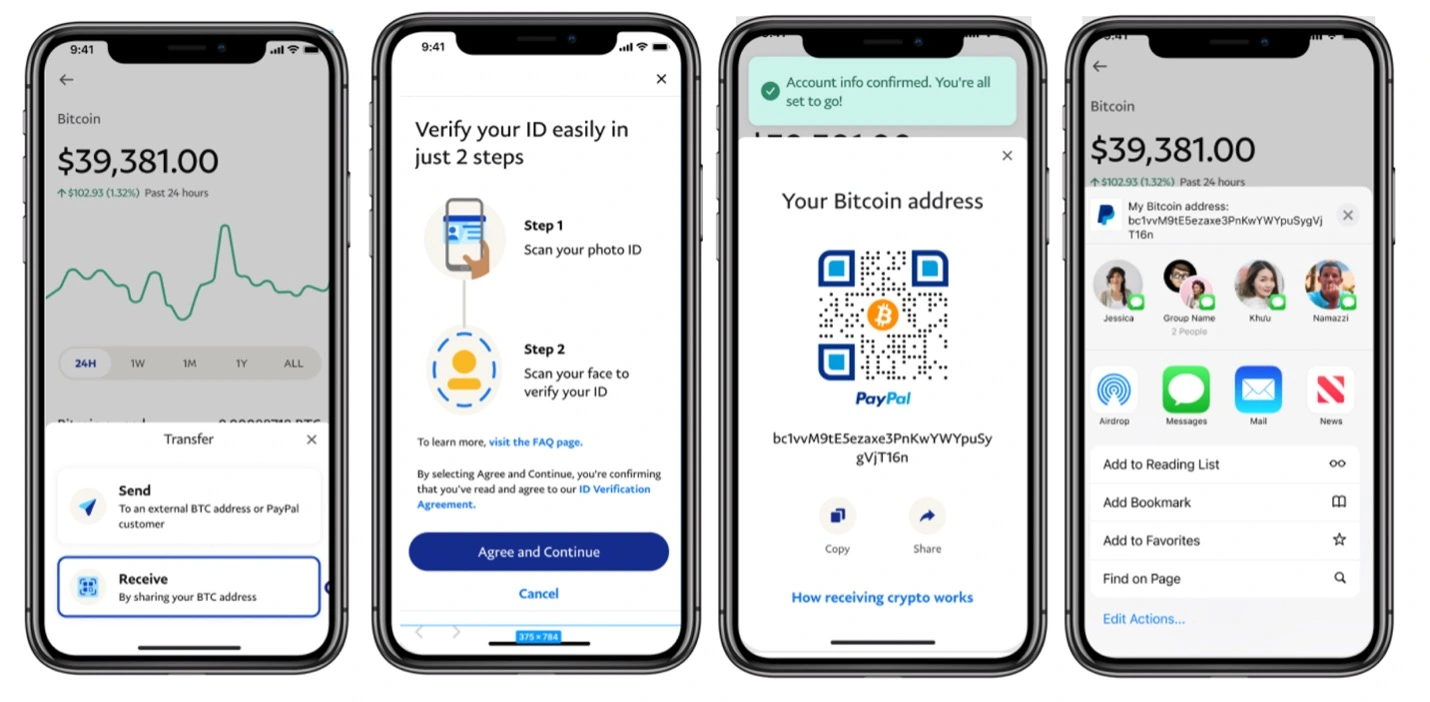 PayPal has enabled a new feature that allows users to send cryptocurrencies to external wallets just two years after the platform launched the ability to buy and sell cryptocurrencies. Jose Fernandez da Ponte, Senior Vice President and General Manager, Blockchain, Crypto & Digital Currencies at PayPal, said; "We are thrilled to announce that starting today, PayPal supports the native transfer of cryptocurrencies between PayPal and other wallets and exchanges. This feature has been consistently ranked by users as one of the most requested enhancements since we began offering the purchase of crypto on our platform."
Sending cryptocurrencies to external wallets will build an effective financial system
Jose Fernandez wrote in a blog post that PayPal aims to build a more inclusive and effective financial system by adding the ability to transfer, send, and receive cryptocurrencies. He further mentioned that allowing PayPal customers the flexibility to move their crypto assets (Bitcoin, Ethereum, Bitcoin Cash, or Litecoin) into, outside of, and within the PayPal platform reflects the continuing evolution of its best-in-class platform and enables customers to interact with the broader crypto ecosystem.
The ability to send cryptocurrencies to external wallets is available only for select US users, however, it will gradually roll out to other users who complete the identity verification process in the coming weeks. Sending cryptocurrencies to the recipients outside of PayPal will incur a service fee based on their respective blockchain but the transfers made between PayPal users won't incur any service fee. The new feature will let PayPal customers:
Transfer supported coins into PayPal.
Move crypto from PayPal to external crypto addresses including exchanges and hardware wallets.
Send crypto to family and friends on PayPal in seconds, with no fees or network charges to send or receive.
PayPal's past with the cryptocurrencies
In October 2020, the San Jose, California-based company first began allowing customers to buy, hold and sell bitcoin, ether, bitcoin cash, and litecoin. In March 2021, PayPal rolled out the "Checkout with Crypto" service that allows US customers to use crypto as a form of payment to merchants who are using the service. The company is also actively working to expand into the use of central bank digital currencies and smart contracts.
Read more: PayPal Rolls Out PayPal Super App, Offering a Combination of Financial Tools