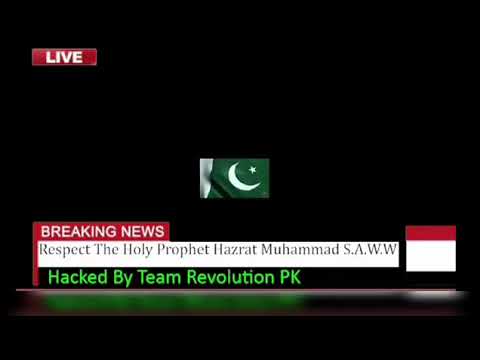 The Pakistani hacker group, Revolution PK, hacked the Indian YouTube news channel, Time8, during their live stream. The Pakistani hackers replaced the live transmission of the Time8 News channel with the Pakistani flag and ran 'Respect Holy Prophet(PBUH)' tickers.
Pakistani hackers target the Time8 News channel to express their displeasure over recent incidents
During their live news stream, the Time8's transmission was disturbed during a breaking news segment when the screen was replaced with Pakistan's flag and a hymn running in the background saying praises for Prophet Muhammed(PBUH). The ticker was also replaced with 'Respect Holy Prophet (PBUH)' text, highlighting the recent blasphemous incident.
Recently, the BJP's national spokeswoman Nupur Sharma and Delhi media operation head Naveen Jindal were heard uttering blasphemous remarks against the Prophet that have caused an uproar in the Muslim world with most of them banning the Indian products from their country. In India, hundreds gathered around the streets of Delhi, UP, West Bengal, Jharkhand, and Telangana to protest against the unacceptable statement made by the BJP leaders.
Read more: ARY Digital's YouTube Hacked by Indian Hackers
Twitterati appreciated Revolution PK
The Pakistani Twitter users expressed their joy by tweeting in favor of Revolution PK and lauding them for hacking Time8 they were of the view that people who blatantly disrespect religious figures must be thoroughly punished by the state to avoid the built-up of hate-mongering activities between different communities. Here are some of the reactions by the Pakistani Twitter community:
#teamrevolutionpk #amirliaquat #pervezmusharraf
"Team Revolution Pk"
Hacked Time8 Youtube live Stream…#ContactPakistan pic.twitter.com/JG8HGO7KZs

— Zoom. (@Hadi_n01) June 11, 2022
Indian News Youtube Channel "Time8" hacked by Pakistani Hackers, running live ticker to respect Holy Prophet (PBUH). pic.twitter.com/nLwEp4JG2j

— Mazhar Ali Khan (@mazharthoughts) June 10, 2022
Pakistani hackers hacked India's RSS-backed TV channel Times 8 during live streaming and chanted Naat to show love for the Holy Prophet(PBUH)and send a clear message to the enemy You can check out more complete videos in the comments box Indian Channel Time8 got hacked by TeamRPK pic.twitter.com/jB24VTUMRc

— Mudassir Durrani🇵🇰 (@durranies_khan) June 10, 2022