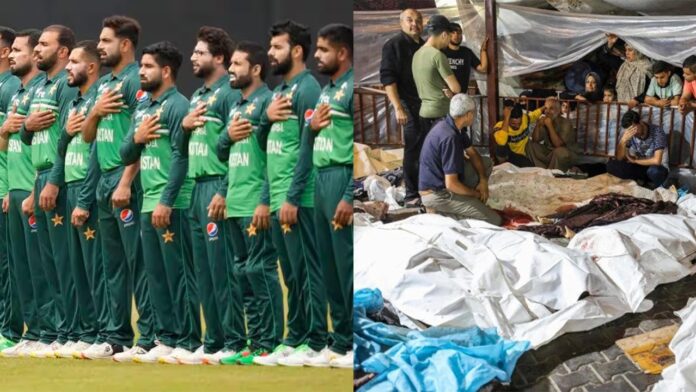 Amid the high-stakes competition of the ODI World Cup 2023 in India, Pakistani cricketers have not only showcased their skills on the field but have also used their platform to make a powerful statement. In a show of unwavering solidarity, Pakistani cricketers have voiced their support for the Palestinian cause, sending a strong message against the atrocities committed by Israel. The heartening display of unity and empathy emphasizes the potential of sports to shed light on critical global issues.
Pakistani Cricketers Rally for Palestine
During the ongoing ODI World Cup, Pakistani cricketers have leveraged their social media presence to express their unwavering support for Palestine. Players like Vice-captain Shadab Khan, all-rounder Mohammad Nawaz, pacer Haris Rauf, and spinner Usama Mir have raised the Palestinian flag on Twitter, symbolizing their commitment to the Palestinian cause. Their collective stance not only resonates with fans but also serves as a reminder of the power of sports figures to influence and inspire positive change.
???? pic.twitter.com/SOg2ihARrX

— Haris Rauf (@HarisRauf14) October 18, 2023
???????????????? pic.twitter.com/2hH4Gjmyhn

— Muhammad Nawaz (@mnawaz94) October 18, 2023
☮️ ✌???? pic.twitter.com/vPjUEnKU6E

— Usama Mir (@iamusamamir) October 18, 2023
☮️ ☮️ ☮️ ☮️ pic.twitter.com/r8E31Jsfya

— Shadab Khan (@76Shadabkhan) October 18, 2023
A Display of Solidarity Despite Controversy
These acts of solidarity have not been without controversy. Previously, Mohammad Rizwan dedicated an outstanding performance in the World Cup match against Sri Lanka to Gaza, drawing both praise and criticism. Certain sections of the Indian media questioned Rizwan's pro-Palestine stance. However, the Pakistani cricket community remains undaunted by these challenges, emphasizing their continued support for Palestine in the face of ongoing hostilities in the region; their actions not only bring international attention to the atrocities but also highlight the role of sports in transcending geopolitical boundaries and advocating for peace and justice.
Also read: Indian Lawyer Files Complaint Against Muhammad Rizwan for On-Field Prayers