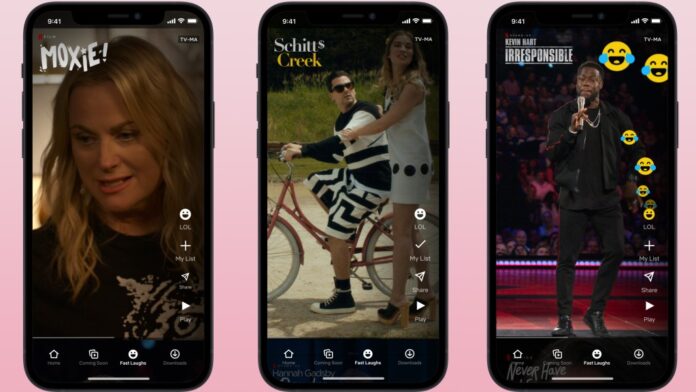 Netflix is rolling out its short-form video feature "Fast Laughs" to TV. The TikTok-like comedy feed was previously available only on mobile devices. The addition is slowly rolling out to subscribers in the US, Canada, UK, Ireland, Australia, and New Zealand.
Read More: Netflix rolls out TikTok-rival; Fast Laughs for mobile users
Fast Laughs – One Stop Shop
The Fast Laughs feed is curated by Netflix staffers that will help users to discover new movies, shows, and stand-up comedy specials. Instead of using an algorithm to show personalized recommendations. Although, due to the R-rated nature of much of the content, only adult profiles can access the feature.  You can tap on the arrows on either side of the clip to go to the previous clip or next. Users will also get an option to add that particular film/series to their watch list. They can also react to a clip by tapping on the LOL button.
Similar to TikTok, Fast Laughs on mobile offers a swipeable, vertical video feed where buttons to react, share or save the content are placed on the right side of the screen. Although, it will work differently on TV. The feature will begin to appear on members' homepages – somewhere around rows six to twelve. The idea is to display the short videos at a time when users are scrolling down looking for something to watch.
Short-form video feature for kids
Netflix is also working on a similar feature for kids that will work slightly differently than other profiles. Netflix explained that instead of offering a TikTok-like vertical video feed, the kid's feature will show horizontal videos that appear in a full-screen window, not within a tab. The clips will autoplay, but parents can disable this in their settings if they choose. The selection of clips will refresh daily and will focus on existing shows on the service. However, if the kid's profile is set to specific maturity settings, the Kids Clips feature will follow those settings.
Source: Tech Crunch