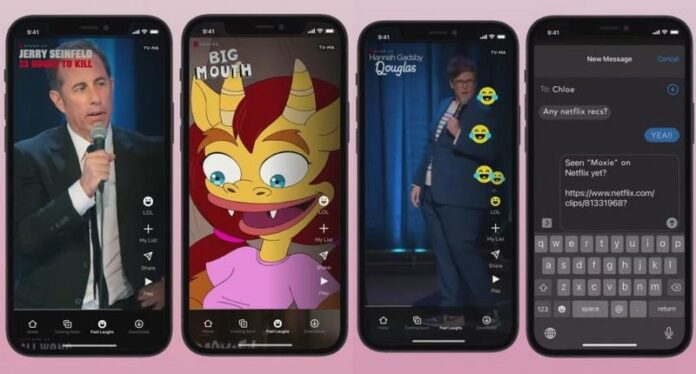 Following in the steps of other famous social media platforms like Instagram and Snapchat, the preeminent video streaming platform, Netflix has rolled out a TikTok-like feed called "Fast Laughs" that provides mobile users an instant, full-screen feed of humorous short videos from its vast comedy catalog.
"Different short clips — taken from shows like Big Mouth or stand-up specials from comedians like Jerry Seinfeld and Ali Wong — play directly within the Netflix app. If one of the shows, films, or specials sparks interest, people can add the said title to their saved list to watch later," Netflix stated in a statement late on Wednesday.
Fast Laughs features videos occupying full-screen that a user can swipe through vertically, and has placed the action buttons on the right portion of the screen. These buttons allow the users to react to the clip with a "LOL" emoji or share it using iMessage or any other social media platform, like WhatsApp, Instagram, Snapchat, or Twitter. However, the option for commenting is not available yet.  
Read more: Pakistan Stock Exchange (PSX) to introduce E-IPO system in collaboration with NIFT
"We're always looking for new ways to entertain and make discovery easier for members," Patrick Flemming, director of product innovation at Netflix, told, adding that Fast Laughs is a "new full-screen feed of funny clips from a wide variety of Netflix titles, ranging from films and series to our deep bench of stand-up specials."
"You access the feed through your bottom navigation menu by clicking on the Fast Laughs tab. Clips will start playing – when one ends another begins, to keep the laughs coming," Netflix said.
Source: The Verge